After a few days in Athens, it was time to head to Santorini for a few days of whimsical indulgence. At first, I was a little worried about the logistics of getting to the area, but I found it was a lot easier than I feared. When going to this island one has a few options. 1) Ferry, 2) Become a Cruise Ship Zombie 3) Fly from Athens. For my journey from Athens to Santorini, (and back from Santorini to Athens) I chose the shortest option, flying. Getting into the glorious Santorini airport was a quick and painless experience. There are pros and cons to both taking a flight and ferry, but I felt like flying gave me the most efficient way to get to the island. The cost of flight from Athens to Santorini is a higher than other options, but I feel it is worth the time saved.
I won't go into a lot detail about taking a cruise ship into Santorini. Really, taking a cruise ship to Santorini is like eating a steak made from tofu, you get the idea, but you're missing out the best part. Seeing the island on someone else's schedule and not being able to venture to other towns had no appeal to me. Below are my experiences with flying from Athens and Santorini and back from Santorini to Athens. Full disclosure, we took this trip in October, a considerably less crowded time. Other experiences may differ given the time of year you visit.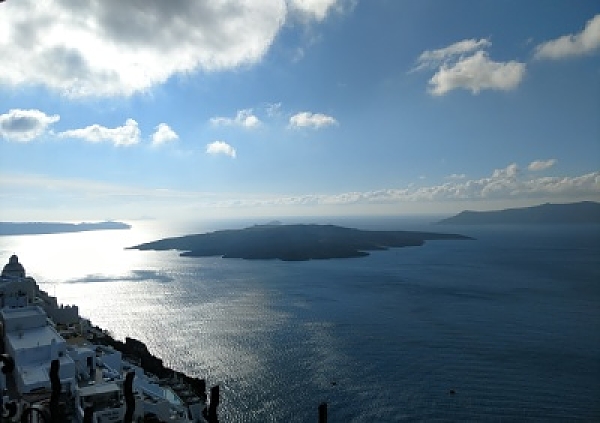 Waking up at the ungodly hour of 5 AM to catch the taxi, we left for the flight. If you have a hotel in the Plaka area of Athens it will take around 30 minutes (with very little traffic) to get to the airport. Once again you will need to take into consideration the time you are leaving, obviously at rush hour it will take longer. You also must consider that the subway workers might not feel like working that day and that your travel time will double.  We left at 5:15 AM for our flight at 7:05, we still had around an hour and 20 minutes to catch the plane, which was plenty of time. Security was fast since the airport was fairly empty at that time. Due to this we were able to get quickly to our gate.
There were no customs to deal with because it was not an international flight, this helped expedite the process. A larger time crunch was the walk to the gate, it seemed as if it took forever. Overall, I would say the drive to the Athens airport was the longest part of my journey from Athens to Santorini. Once you arrive at your gate there is a bus that takes you to the plane. It basically opens up on the runway and the plane loads quickly from both ends. Once again, I felt like waiting for people to board took longer than the flight itself.
Athens to Santorini: The Flight to The Santorini Airport
As I hinted throughout this article, the flight itself was quick and uneventful. The views of the islands from the plane are incredible and prepare you for the beauty of Santorini. The flight was scheduled for 45 minutes, but I think that was counting some of the time waiting for the plane to load. The actual time in the air was around 25 minutes, from takeoff to landing. I have taken longer elevator rides than this flight, I barely felt it.. Even still, the flight attendant actually offers you a piece of candy and an onboard snack.
This is considerably more than I can say for British Airways, who wouldn't give me a cup of water on my four-hour trip if I was dying of thirst and laying across the aisle. Alas, I didn't need to snack on the trip to Santorini, I was still reeling from causing a squid apocalypse, but it was a nice gesture.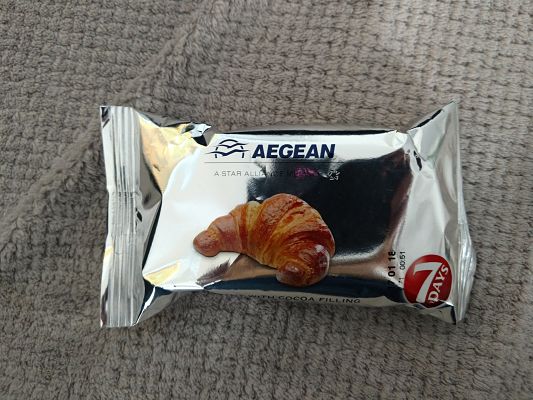 Once the flight landed we were let out as we came in, onto the runway with two sets of stairs leading off the aircraft. The plane lands in the Santorini airport, which can be mistaken for something in Afghanistan. The airport seemed older than the Acropolis, with less upkeep. A bus picked us up, took us around 100 yards and put us in the big room where we picked up our baggage. The Santorini airport is probably one of the smaller, less aesthetically pleasing airports, I have landed. Luckily, it was a quick stop...
Adding up the Cost of the Flight from Athens to Santorini
As usual with flying there are many variables that come in to play. One reason I picked such an early flight is that there was around a $75 difference between the that and a more prime time. Time of day, time of year, how many bags you have, all play a factor in the cost. Below is the breakdown of my total cost of the trip Athens to Santorini (and back).
| | |
| --- | --- |
| Description | Price |
| Cab to the Airport in Athens: |  €  42.00 |
| 2 Round Trip tickets 1 bag each |  €  365.00 |
| Car Service to and from the Hotel in Santorini |  €  55.00 |
| Taxi back to the Athens Hotel |  €  42.00 |
| Tissue to wipe away the tears of leaving Santorini |  €   1.00 |
| Total (for two) |  €  505.00 ($580, give or take) |
 Santorini to Athens
The trip back to Athens was just as easy as the trip to Santorini, except much sadder. Even though we were going back to Athens, a city I loved the first time around it was hard to leave Santorini. The ride back was uneventful, and very quick. We took the advice of "leave for the airport two hours early" literally. In October, it took almost 8 minutes to get from the front door to the seat of the gate; this had us sitting in the Santorini airport for over an hour and a half, which was not a pleasant experience.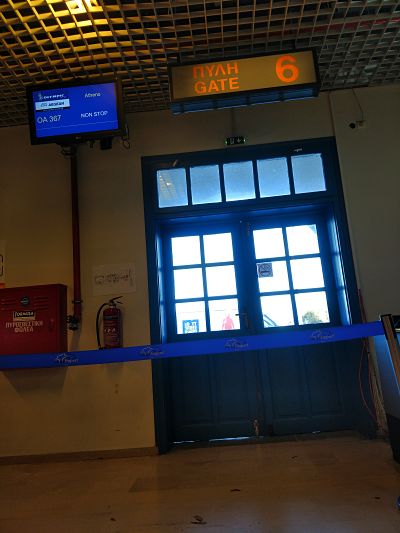 The Santorini airport has no bar, is crowded, and there is no posh lounge to be found. Really, I felt like I was being punished, as going from Santorini to Athens was sad enough. Spending your last hour and half sitting in a prison cell of an airport is torture. Although there is a little news stand type place that sells wine, as wine always helps quell misery. Sigh, even the news stand just looks sad, as shown in the below picture.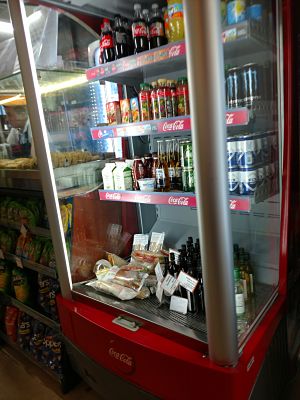 One Tip: Taxis are widely available, but one day of our trip there were multiple cruise ships unloading. We called from the wine museum and could not get a taxi because of the crowds. If you're flying in the summer when there can be 8 ships sitting there it might be wise to set up a car service with your hotel so, you do not miss your flight. 
A Word on Olympic Air/Aegean air
Olympic Air is a subsidiary of the Greek airline carrier Aegean Airlines, both seemed to be sending me emails so I just kind of lumped them together. I have nothing but good things to say about my experience with them. The flight was short, yet they still gave us a snack, as mentioned, which again, is more than I can say for British Airways. They got us on and off the aircraft in what seemed to be record time, and everyone was friendly. Almost everyone in Greece is friendly, but it always nice to be greeted with professionalism when flying.
I highly recommend them, if flying is your choice when going from Santorini to Athens, then Aegean Air is a good one. You can book them through a link here: Aegean air…or hit the link anywhere you see their name. Full disclosure, I am NEVER going to promote anything where I didn't have a good experience. Hence, you will never see British Airways being promoted on this site…
The Ferry from Athens to Santorini
I didn't ride the Athens to Santorini Ferry on my trip. I did lay back in my hot tub with a glass of Champagne and enjoyed watching it. This activity of course makes me an expert! In all seriousness, although I cannot tell you about the experience on the ferry. I did research it quite a bit to compare it with flying. My little arms wanted to save money on this trip. Less money on travel = more money on Gyros!
As far as I can tell, the basic cost of the ferry from Santorini to Athens and Athens to Santorini is around 40 euro, each way, per person. That price also varies by class of seat you purchase. There is also a high-speed ferry, that is slower than flying yet, more expensive than the standard ferry. So, for about 70 euro a person each way it isn't much cheaper than flying. Maybe you will save 30 euro a ticket. If you're a family of five that adds up, but as a couple it didn't make sense.
The reason I choose flying from Athens to Santorini was the time involved. The ferry takes anywhere from 5 hours (high speed) to 8 hours, which to me is too long.  A flight on the other hand is about 2 hours when you count the time in the airport. If I lived in Athens or Santorini I think it would be a great ride once a month… Since I only had 6 days on the island I wanted to maximize my time. If you have a large family, a tight budget, or just like to relax on a boat, then pick the ferry.
Conclusion: Athens to Santorini
I have taken a lot of trips, the flight from Athens to Santorini was probably my easiest. It is weird in that you are transported into a whole new world in 25 minutes. In my opinion if you visited Athens, a side trip to Santorini is a must. It was one of those places I will revisit, even though as a travel blogger I should explore the rest of the world first.
If you like my articles, don't forget to subscribe to our website on the right-hand side of this page.
*This post contains affiliate links in which the author may receive a commission for any product purchased.