If you asked me about bucket list locations, Panama City, Panama wouldn't have made the cut. I really didn't know much about the country, outside of the Panama Canal. Last year I was presented with the opportunity to visit this city for work. I was there for exactly one week, but only saw about three day's worth due to an overbearing schedule. Starting my stay at a far-out resort for the first leg of my trip, I ended it in what is considered Old Town. Now, I wouldn't say I am now an expert on the area by any means, but I did see enough to get a feel for the country.
I enjoyed Panama City, Panama, for the most part, I just didn't love the city. Maybe it was the fact that I left my wife (with strep throat..and a fear of Zika) and travel partner in the States, or maybe I was busy working, but the desire to return is nonexistent.  Everything was ok, albeit underwhelming, from the food in Panama to the activities. There was very little that held my interest, but not much I hated…
Things to Do in Panama
I have mixed reviews when it comes to things to do in Panama City, Panama. I was mildly entertained by what Panama had to offer, but nothing I would write home about (apparently enough to write here though). Admittedly, I have become a travel snob, I just need a little more to be wowed. At one point, I was so underwhelmed I thought I missed something, and even hit TripAdvisor to double check the hot spots. It was confirmed that most of the major attractions were seen in the short time I was there. When the Panama Metro ranks number four for things to do, you know not to get too excited…
The Panama Canal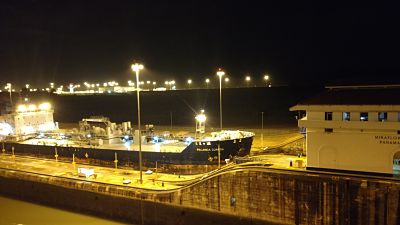 The Panama Canal is a no brainer when visiting the city. I was fortunate to be taken there on the second day of our training, so I didn't have to make the trip on my own.  We were taken to the Miraflores Visitor Center, which is one of the best areas to see the canal. Yes, it is a architectural marvel, yes it is huge…but yes it is also underwhelming. How long can I sit and watch a ship almost go through the canal? Answer: a long time. It is impressive from a historic perspective, but it got old fast, even with alcohol. The canal is also fairly out of the way, nowhere near walking distance. Once you get there you are stuck there. Nice to see once, but if it's your number one tourist attraction you've already lost me…
Old Town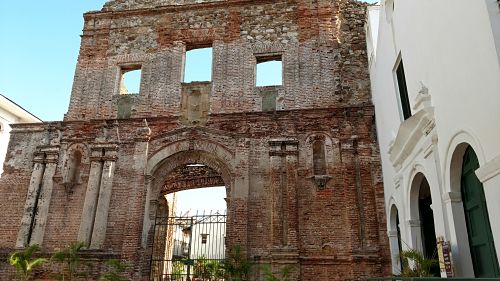 As mentioned, I also visited Casco Viejo, or the Old Town. The area was probably my favorite, and maybe it was because I left the resort (and the 14-hour work days) behind me. It was here where I saw most of the restaurants, museums, churches, etc.
The city is small, I explored the majority of it by foot the first day and yet still I enjoyed walking it and going to the shops with the overly pushy sales people. Just wandering is always nice, and even though it was 95 degrees in March; admittedly, finding the mojito stand made it more comfortable. The experience was nice, just a bit of a letdown. Given it was a work trip, my wife was not there; I think having my traveler in crime would have made it a bit better. Randomly eating and drinking is just more fun with her, but I am not sure even that would have been enough to make me want to go back. I have travelled alone before with better results. 
Lastly, although I felt fairly safe in Old Town, there are neighborhoods there that made me turn around quickly. While Old Town was walkable, the city on a whole was not. Panama City, Panama kept me slightly entertained for a couple of days, it's just not bursting with things to do. Two days was plenty for me, so much so I didn't mind watching a Harry Potter marathon after I was forced inside. More on that later…
My favorite part of  Old Town was hitting the Museo del Canal Interoceanico de Panama. By nature, I am a museum guy and most will hold my interest. The museum was dedicated to the Panama Canal. The history of it was interesting, but like most of Panama City, it couldn't fully satisfy my ADD…
Accommodations
I stayed in two places, one being The Westin Playa Bonita Panama (see link below) and the other being a 4 star hotel in Old Town, Villa Palma Boutique Hotel. Both had their good and bad points.
Westin Playa Bonita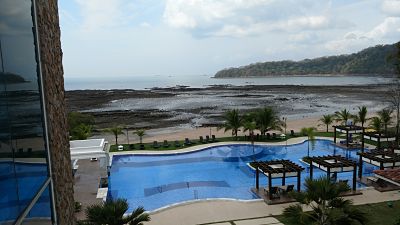 Let me start with the Westin Playa Bonita, a pleasant surprise on one hand and a $!#$ tease on the other. First, I had no idea my job would pay for an all-inclusive resort. There were four very nice pools, at least three all-inclusive bars and a beautiful backdrop. Not one of which I could fully really enjoy, because I was locked in an office for 12-16 hours a day. It was like giving a kid his favorite video game for Christmas, then taking him for a 4 month stay at grandmas…minus the console.
I was able to enjoy some of it at the end and looking back at the beginning of my stay and I can say that the accommodations were quite nice. The room was spacious and had a beautiful view. The pools were great, and there was of course a hot tub.
There were two things I didn't like, the first being the food that was included. Maybe this is what turned me off to the city on a whole, as nothing tasted fresh. Nothing was terrible, it all just lacked the basic ingredients for flavor. I am partially blaming my company, as something tells me they paid for the C level food package…
Worse yet, we had the same offerings every meal, I thought it was Groundhog Day at meal time. Having all you can eat of the same mediocre food for three days straight, actually weighed on me. To be fair the resort had one other restaurant that we didn't try, perhaps my company wouldn't spring for them…
The second thing I wasn't thrilled about was that it was far from everything. When travelling I like to walk around, this hotel didn't give me this option. If you like just hanging out at a resort, this might be for you. Read the reviews and decide for yourself.
Villa Palma Boutique

Hotel
This hotel was in a great location in Old Town. There was a lot to like about this place, well everything but the room itself. Really, I didn't hate the room, it just reminded me of spending the night in my grandmother's house. The décor was old, the TV only received two channels and it had a faint musty smell. They also gave you a regular key, proving this was in fact ran by a 90-year old. Apparently, that newfangled technology of a key card escaped them. I mentioned the key, because it was attached to a huge piece of wood, like I was going to a gas station. I wasn't sure if I was expected to sleep in the room or use it to shoot up heroin near a toilet.
As mentioned the location was nice, right across the street from an excellent mojito bar and near the pushy shop clerks. The inside lobby was also great, with a cool non-grandma (love you nana!) retro feel. The service was friendly, at least everyone was very nice to me. My favorite part about the hotel was the roof top bar, it had a great view and was very relaxing.
I don't know what it is about drinking 10 stories up, but I dig it. All and all I would stay here again, although I would have  thought twice if my wife was with me. The prices vary, but it was very reasonable. Check out the reviews yourself and decide. I will say I did have breakfast there, and like most of the food in Panama it was pretty good, not great. Which brings me to my next topic.
Read The Reviews for the Villa Palma Boutique Hotel
 

   

The (Pretty) Good in Panama City, Panama: The Food in Panama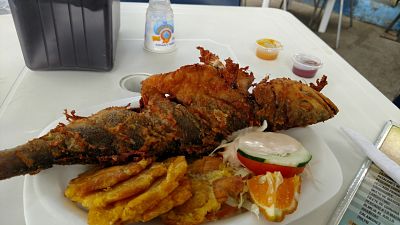 Full disclosure, I was on a no meat kick when I went to Panama, so I may have missed out on some of the cuisine. I wasn't however on a no alcohol kick, so that worked out in my favor. The food on my trip got better as the week went on. Although it never fully picked up steam. I already mentioned the resort meals, so when I left I was craving something with flavor. I also was taken to the restaurant at the Panama Canal. It was, as you might have guessed, pretty good, not great. When I was able to break away from my work and hit old town the food got somewhat better.
Given the lack of meat I thought I would have gills when I left the country, I had eaten so much seafood. Although, for an area surrounded by water the seafood was a let down at times. In other instances, it was great. First, I will say I had some great ceviche in the city. If only I could remember the name of the restaurant…..
Mercado de Mariscos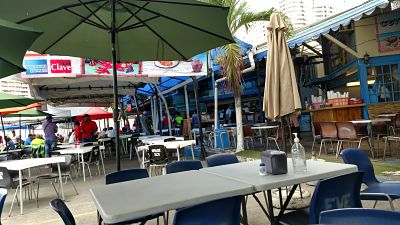 I visited the Mercado de Mariscos fish market towards the end of my stay. The experience was decent, but again disappointing. The food was not appealing enough to get me to run back for seconds. I have been to a lot of food markets in the world, and the Mercado de Mariscos falls to the bottom. First, all the vendors seemed similar, with a pushy host outside each and the same offerings. After the third guy accosted me I broke and sat down at a table. I ordered the Corvina, which is like a sea bass, and came out fried and almost unrecognizable ..
It was ok, but fried food is not usually my thing, this was no exception. The plantains were also fried, making for a heavy meal in an outdoor market at 90 + degrees. If I would have kept walking I think one vender sold lobster, which would have helped. I am glad I went to the market, but I am not missing it like it is Barcelona, Spain or Santorini.
The Fish Market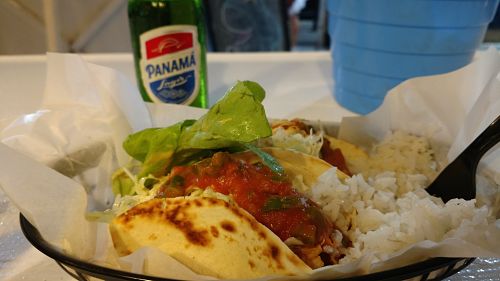 Now this is confusing, because this restaurant goes by the same name. I can honestly say that I had the best fish taco of my life at the "The Fish Market" in Old Town.  Not to be confused with the actual fish market (above), this place is more like a semi hipster sit down restaurant. This was so good I went twice, and reordered the taco both times, after I thought I was done. So I went all the way to Panama, to have four of the same meal (in two sittings). Although the food was excellent, it just didn't taste like I was eating a foreign cuisine, maybe a new hip restaurant in SoHo. Unfortunately, nothing else, minus the ceviche, was that compelling.
The Bad About Panama City, Panama: The Risks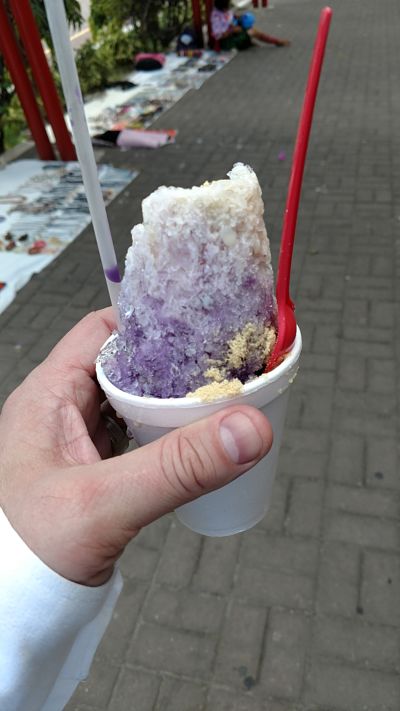 Zika, robbery, heatstroke, bad water, it seems there are a million ways to die in Panama City, Panama. I'm not sure if I would consider Panama City, Panama third world…but maybe second .5? The poverty is pronounced, yet you can get lulled into thinking you are in Europe, until you take the wrong turn. Hell, when I was there a blackout hit that shut power off in the city for the night. Hence the Harry Potter marathon mentioned above.
I wandered around until I decided that maybe walking in the pitch blackness wasn't in my best interest. Lucky for me my hotel had a generator, which made me ask…how often does this happen? Walkability is not a great option at night in Panama City, Panama when they do have power. While sometimes I like a little danger, this was not one of those times. On the flip side, they have sloths roaming around, and who doesn't like a good sloth.. 
Conclusion
The food of Panama City, Panama was ok. There was enough to keep me mildly entertained, but I wasn't overly impressed. Am I glad I went? Of course, I love foreign places, and there were some nice things. It just wasn't foreign nor compelling; if you are going, have fun, just don't expect too much. It is a big world, Panama City, Panama only needs to be seen once, if at all..