After rereading my New York post on food, I felt I needed to do something similar for Greece. My only problem was, given how much I ate, War and Peace would be a quicker read if I included it all in one post, so I opted for two (at least). Greek food was exceptional, especially if you like seafood. Of course, there was the occasional drunken tourist trap to be avoided, but for the most part I loved everything I tried. Most Athens Greek restaurants are authentic, you just have to be careful next to the tourist attractions.
Even with missteps, I don't think I would change much about our food journey in Athens. I came at the place with my mouth open and was more than happy with what fell inside. So, let me start from the beginning on my quest to find the best Greek food in Athens.
First Night: Atlantikos Athens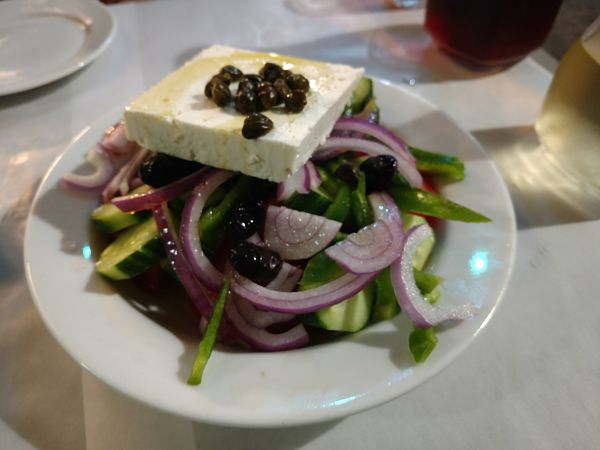 Stepping out of the Athens Luxury Suites after British Airways tried to starve us, we were famished. To be fair, I wouldn't have eaten the plane food anyway, but the airline couldn't spare a bag of peanuts. We wanted seafood, so we stumbled our way to Atlantikos. To call this place a hole in the wall would be unfair. It was like I crawled into a hole and found a wall with another hole in it. The menu was also unimpressive, with no calamari or octopus to be found.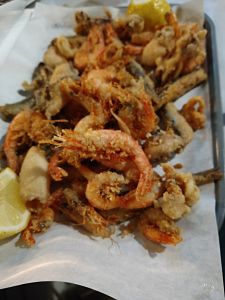 What looked like a miss, turned out to be a hit and one of the best Athens Greek restaurants. Atlantikos packed a lot of punch for a little place with tables tossed along an alley. We order so much food the owner/waitress warned us to stop. I don't know who this lady thinks she is, but she didn't who we were! Our first course was, a classic, the Greek salad. This would be one of probably 100 Greek salads I had on this trip, but also one of the best. We followed this up with sardines, fava beans, tuna, and a trio of fried fish. All of this topped off with two liters of wine.
The sardines were excellent, the tuna fresh (but with too many bones for our taste), I even loved the fried mixture. Usually I don't like fried food, but they didn't overdo the breading and kill the taste. Atlantikos is a great laid-back restaurant for seafood lovers. I am not sure if it was extreme hunger or the food was really that good, but I remember Atlantikos as so exceptional..we had to go back.
After exploring a bit, we did hit a (very) late night tourist trap. It was unfortunately the only thing open. I won't go into detail, but I will say if a guy is trying to drag you in, it's not worth it. The majority of Greek food was excellent. This restaurant was like most things indulged in after too much wine, at too late of an hour, regretted in the morning..
Athens Greek Food: Day One (full day)
Waking up, invigorated, preparing to shovel things in my mouth, we were on our way. Knowing there is a major food market, we made a B-line for the area. The Central Market is more like a slaughter house, with enough fresh meat to make the strongest PETA member implode. This market doesn't hold back on showing you were meat really comes from.  Hint, it is not neatly packaged with a smiling cow on the package. Sea creatures didn't fare much better, with every edible thing in the sea was brought in that morning.
Varvakeios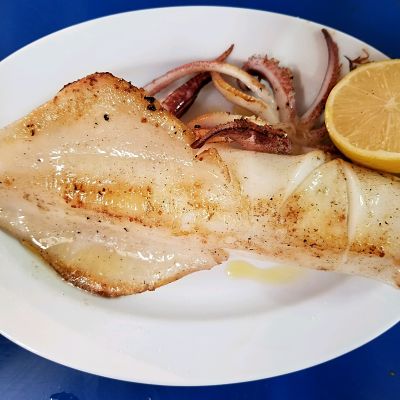 This brings me to my first restaurant, the only one I saw in the market. Varvakeios made Atlantikos look like Ruth Chris. Tiny, with a bunch of overweight Greek men blowing smoke everywhere…a perfect lunch spot. We asked for shrimp and grilled calamari, again no calamari. We were resigned to our fate when something strange/wonderful happened. The owner walked around the corner holding a squid and said, "I'll grill for you". It doesn't get too much fresher than that (or we thought). The shrimp were also freshly caught, and had to be brought to the table with a crane they were so big. A great way to start the day, but we wanted octopus, so after eating here we did what any normal person would do, had another meal.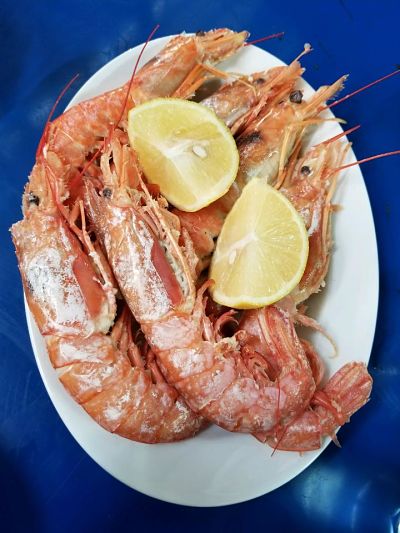 Taverna Aris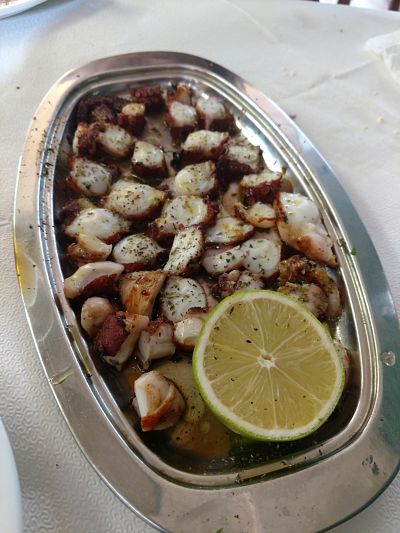 It is time for our traditional second lunch, because anything worth doing is worth doing twice. Taverna Aris was probably the best of all the Athens Greek restaurants we visited. We hit this place twice in two days, and hit it hard. The meal started with, of course, a Greek salad and continued from there.
Next, we went after a second calamari. It was just as good as the first and perfect for those who enjoy a good sea monster. We order some octopus and sausage both excellent, although as shown in the picture the octopus served non-traditionally. I prefer my octopus to look like something out of a Japanese tentacle cartoon, but this one was chopped up. Still it tasted great, and we had enough eye candy with the calamari. Taverna Aris was for me the best, casual dining experience in Athens Greece, although I probably can say that about several places. I know this, Greek food was rapidly climbing the ladder of my favorite cuisines.
To Pa

radosiako (Evgenia)
Yadda Yadda Yadda, walking around, yadda yadda Roman Ancient Agora of Athens, OK it's time to eat. It's been about four hours since second lunch, and man can't live on beer and wine alone. All that exploring (and drinking) got us hungry so we settled down to a place that was right near the Athens Status Suites, Paradosiako. Starting with a Greek salad (just assume I always ate a Greek salad) the restaurant itself wasn't memorable with one exception. I order the Greek dish moussaka, a dish dubbed Greek lasagna.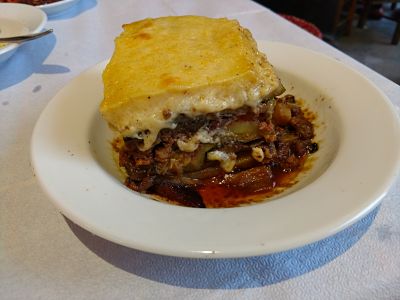 Now by looking at the picture you can see this clearly looks like lasagna. Tasting this and being of Italian decent I can say this is nowhere near a lasagna. Somehow, they warped layers, beef, and tomato sauce into something else. The layers are eggplant and covered with a strange egg/cream/nutmeg sauce. This is not a light dish. I am not saying I hated it, I might even try it again. It is just not my favorite Greek food, nor was Paradosiako one of my favorite Athens Greek restaurants. Lucky for me second dinner was on its way…
Cinque Wine & Deli Bar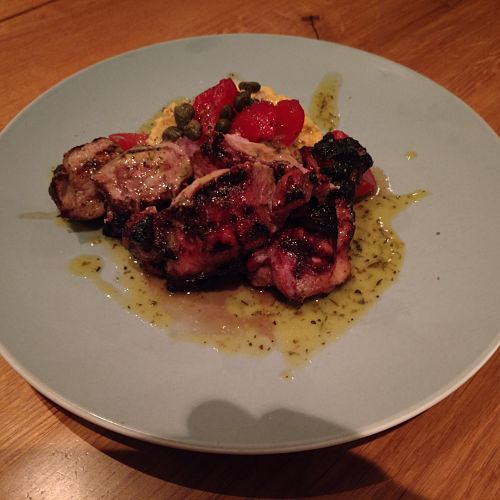 Well second dinner came after a quick bakvala at a place that slips my memory. I also accidently threw a Gyro down my gullet at Tylixto Greek Wrap. It may have been a souvlaki, I use the two interchangeable even though there is a difference. Either case I had enough to drink at this point where it was much appreciated.
My wife on the other hand wanted something a bit more refined, and had a craving for some lamb. We made our way to Cinque Wine bar and Deli. This was one of the best Athens Greek restaurants (noticing a theme), totally different from the others. The first striking difference was the price. My arms shrunk a bit when reaching for my wallet at the end of the meal. Having said this, we had a great charcuterie (deer) plate paired with some amazing wine. The real star of the meal was lamb that was so juicy you would think it was picked off a tree. The picture makes my mouth water, although it doesn't do the dish justice. We ended the night with a brandy and excitement for the Greek food to come in the morning..
Eating in Greece: Day Two
We woke up hungry and ready to eat, so eat we did. To begin with, like we do in every country, we grabbed so fresh orange juice. This always poses the question: Why is OJ so terrible in America? I won't spend too much time pondering this. For our first meal we mimicked our eating from the previous day. Once again hitting Tavern Aris and basically getting the same meal. If it ain't broke don't fix it, so we didn't, well at least not at first.
O Kostas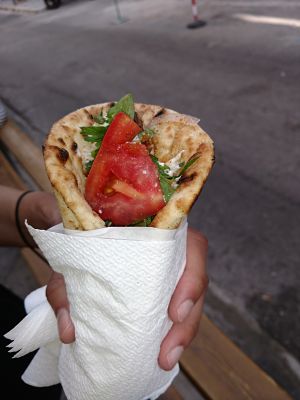 You know that feeling when you know you haven't eaten enough lamb in sandwich form? Well I did, so it was time to find what some consider the best Gyro in Athens. O Kostas was mentioned many times in various food blogs and was 5 minutes from our hotel, a match made in heaven.
It was quiet when we got there, only one other couple in front of us. O Kostas was another small establishment, making me believe that the less square footage the better the food. The place may also have been the cleanest establishment in Greece. The owner went so far as to handle all money with tongs so as not to touch it, while preparing food.
As for the food, how can I describe a perfect Gyro? The vegetables were fresh, the meat cooked and seasoned ideally. It made me realize Gyros are like pizza, most are all at least good, but when you get a great one you know. O Kostas made a great one. The only problem was I had to eat it on the street, and it made juggling my beer a bit difficult…
Daphnes Restaurant
Fast forward a bit, we were ready for dinner. At this point we threw caution (and our research) to the wind and hit a number of restaurants in a row. I started with something sweet, getting a Galaktoboureko, a dessert I loved in New York. The one I had here was disappointing, not bad, just, not great. 
After trying three or four places, we ducked into one last spot. Daphnes Restaurant had all the makings of a tourist trap, yet we still went in. This was lucky, the restaurant turned out to be one of the best Athens Greek restaurants of the day. It was not a hole in the wall, but still great.
I ordered the rabbit (seen atop this page), I am not sure if it was the satisfaction of eating what some consider a pet or if it was the sauce. The dish was so good I was sucking the meat off the bones. My wife ordered the lamb and it was equally delicious. It was nice to devour some animals that walked rather than swam. An added bonus is that the restaurant is located across the street from The Choragic Monument of Lysicrates, visited frequently by Lord Byron (Google him/educate yourselves…!) and thus, the quintessential romantic dinner and a view are in place …
Wrapping up our Athens Greek food Tour
I think we did some damage for two days. Of course, the damage was to our hearts and waiste lines, but it was worth every bite. For the moment it was time to say goodbye to our Athens Greek restaurants; the next morning early we jumped on a plane to Santorini. You would think both places had Greek food, so it is all the same. Yes, there were some similarities, but there was a different feel to the food on the island. We stepped off the plane, dropped our bags off at the Athina Luxury Resort and were on our way to satiate our hunger….