Knowing I was only going to be in Athens, Greece for a few days, I wanted to get the most bang for the buck. I needed something close to the major attractions and restaurants, yet not too close to the crowds. I also wanted a nice hotel without having to take a second mortgage out. Too often in foreign cities, a four-star hotel has you sleeping on a potato sack, sharing a bathroom with a few strangers… Lucky for me the Athens Status Suites, became a happy mistake for us. If you are trying to decide on where to stay in Athens, Athens Status Suites is the way to go. Any first-time visitor should consider this Plaka Athens hotel.
The hotel offered us a nice environment, close to a fresh market, friendly staff, and a great price. All of this within walking distance of the Acropolis, a highlight amongst attractions in Athens. Once again, I used TripAdvisor for my initial research into the hotel. If most people are giving it a good review I will do more digging.  I travel a lot, so I have learned that not every highly ranked place has what I am looking for, as far as amenities. Using the link below you can read what others said and check out prices.
Click Here for Reviews of the Athens Status Suites
The Good About Athens Status Suites: A Plaka Athens Hotel
The Athens Status Suites is situated in a great location. Plaka Athens hotels are probably the most convenient in terms of getting around, and I recommend this area to any first-time visitor. The Athens Status Suites was no exception. Everyone seems to know this, with exception of the Taxi drivers we encountered, but I digress. Wandering the streets is one of my favorite parts of any trip. The hotel made it incredibly easy to step outside your door and be in the middle of the action. Yes, there may be a couple of tourist traps near the Athens Status Suites, but that is to be expected. Anytime you are near popular attractions, restaurants with tourist menus pop up around them…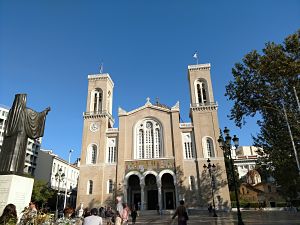 The hotel is right next door to a beautiful church, marked by Templars, and literally minutes away from many smaller attractions. As mentioned, the area is also packed with bars and restaurants. Athens, the city, closes a bit early for me, but the restaurants around the Athens Status Suites were open later than most.
Of course, some people complained about the hotel being too close to the church (due to the bells) and the bars. The claim was that the noise from both kept them up at all hours… This is the same type of person who would complain about winning the lotto on Christmas. I barely heard the noise, if I wanted to be in a quiet neighborhood I would have rented an air B&B in Shady Pines. As for the church, the bells ring…like a church bell does, but I am certainly not complaining about it…
Larger Sites
The hotel isn't only in walking distance from smaller attractions, but all the major ones as well. It is about a 30-40-minute hike to the Acropolis. Of course, it is uphill, but coming back is easier. You also need to consider you will only need to make this trip once, because one time to the crowded Acropolis is all anyone can handle.  The Ancient Agora of Athens and the Roman Agora are about a 10-minute stroll. This may be the best thing about the Athens Status Suites, you can get to most of the best sites by foot and have plenty of time for the Central Market.
The Good About the Athens Status Suites: The Service
We stayed in this hotel on two separate occasions and both times the service was excellent. I am not sure if all Plaka Athens hotels share this quality, but this hotel really surprised me. This is one of the benefits of staying at a smaller boutique hotel, it seems the people know everyone, and they treat you accordingly. On our first three nights we were upgraded to a suite, always a nice touch. Whenever I get something for free, I am in a good mood. As we checked out the first time, knowing we would be back, they kept one of our bags for us. That made our trip to Santorini a hell of a lot easier.
It was the little things that I liked: the flowers and welcome note on both of our stays.  The fact that they were extremely helpful in finding a place to eat, or simply helping us with our Greek. It is funny how easy I am to please…and how difficult it seems to be for most hotels. The friendliness must be a Greek thing, because the Athina Luxury Suites in Santorini is another one of the few  hotels I found with this kind of service.
The Value
There isn't much to say about the value of this hotel except that it was cheap enough to put a smile on my face. For the location, room quality and service we still paid less than $100 a night. I have boarded dogs and paid more than this. The place was a steal, if you paid this in a city like New York you would expect to have to share your room with a felon.. Instead I had a great room and an excellent location for Motel 6 prices. You can check out prices below.
Click here for the most recent prices
The Good About the Athens Status Suites: The Room
Ok, first let me put it out there, the room is kind of strange, but in a good way. We stayed in two rooms, one being the suite, the other being a standard room. Both were much larger than typical European rooms. It felt like I could play football in the suite. Even the standard room was more than adequate. The rooms were clean, and the bed was comfortable. The only strange thing about them were the décor. Everything in both of our rooms was all white, it took a second to get used to, but I liked it..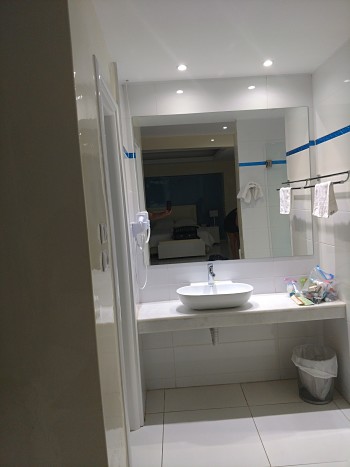 One final thing I liked about the room was the bathroom was much more private than I usually get in Europe….
The Weird About the Athens Status Suites: The Hotel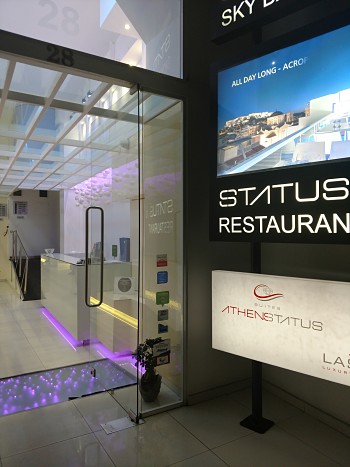 Yes, I liked this hotel and yes it has some great amenities. The bar upstairs had an amazing view of the Acropolis, but the hotel itself is kind of odd. First, as seen above, the entrance is so little it was hard to find. I felt like I was trying to get into Hogwarts whenever I was returning from the day. The elevator was so small I usually just took the stairs; it felt like a place they sent you to if you were bad in solitary confinement. When more than one person entered the space, I got nervous.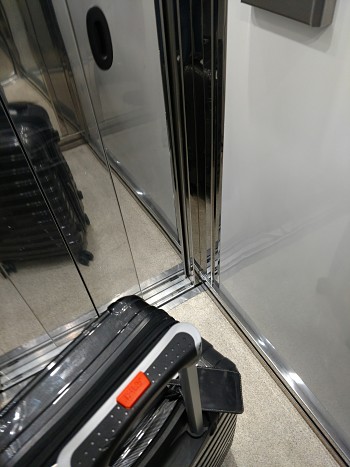 Ok, there was also no pool, and I don't think there was a workout room, and there also wasn't much in addition to the rooftop bar. The rooms were funky, and while I liked them, some might not. The hotel is kind of strange, but not nearly enough to stop me from going again.
Where to Stay in Athens?
You want to stay close the action. You will want to have a comfortable room at a great price (i.e., stay away from the sketchy places.. even if they are cheaper). Lastly, you will also want great service. The Athens Status Suites covers these things and more. Yes, I have had nicer hotels, the Athina Luxury Resort in Santorini comes to mind. I also paid much more for them. In terms of cost to quality, this hotel is at the top of my list in places I have stayed.
Find the best deal, compare prices, and read what other travelers have to say at TripAdvisor