It is no secret that I dislike Charlotte. After living here for 12 years, I have found few things that inspire me about the area. I even wrote a post saying as much, after a particularly bad drive home and a few cocktails, venting my anger. I stand by what I wrote then, but there are times when Charlotte surprises me. Spending Christmas in Charlotte has its moments, when the weather cooperates of course…when it doesn't you are walking around in shorts while shopping for Christmas presents.
Christmas in Charlotte is nice, partly because in the last few years I (Ok, and my wife..maybe, mostly my wife) have incorporated a few traditions to bring out my festive side. I usually hit one place a week, starting the week after Thanksgiving. So, breakout the eggnog and the ugly sweaters, let me tell you about my Christmas in Charlotte.
Old Mecklenburg Brewery Christmas Market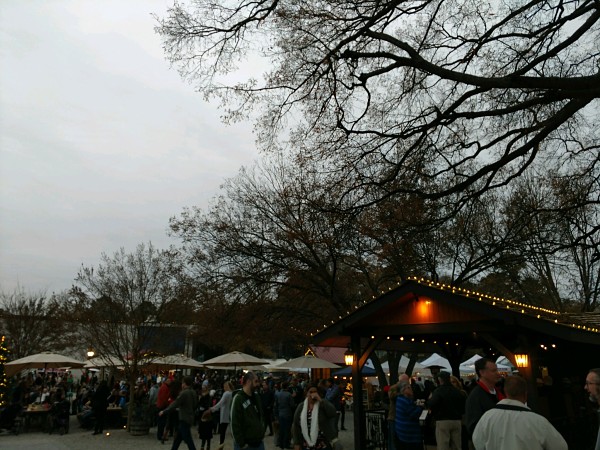 Nothing makes me merrier than having a couple of pints of beer and a few pounds of sausage. The Old Mecklenburg Brewery Christmas combines the Christmas feeling, with a nice buzz. Come here at Christmas and you will witness the most efficient beer station in the states. It is runs like an assembly line, which is perfect given the crowds. The atmosphere is magical, albeit with an unusual number of dogs and babies for a brewery..
The market itself is always fun, with local venders selling a variety of goods. There are many artists, jewelry makers, and people selling honey for $3000/ounce (slight exaggeration). Most of the venders have just the right mix of indie local goods and overpriced specialty items that the Hipster/Bankers eat up. Somehow it works for me, but I am usually only a spectator. There are also fire pits, mulled wine, and other things to get you in the spirit. After walking around, grab a seat inside-if you can, and order some of the best sausage in the area. The Old Mecklenburg Brewery Christmas market is a great way to start the season.
Daniel Stowe Botanical Garden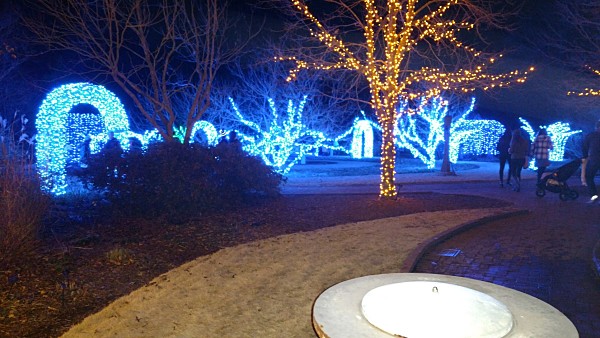 My favorite thing to do when celebrating Christmas in Charlotte is the Daniel Stowe Botanical Garden. This, of course, is best enjoyed in the cold and at night. The display is one of the better exhibits of Christmas lights I have seen. The Daniel Stowe Botanical Garden is not close, located in Gaston County (not really Charlotte), but well worth the drive. A benefit of having the location so far away is that none of my friends can see me looking like an 8 year old when I am enjoying the lights and the Christmas music. The decorations are spectacular, and the entire area is set up to make you feel as if someone shoved a candy cane in your ….hot chocolate..  Get your mind out of the gutter this is a Christmas post!
Besides delicious hot chocolate, beer and wine can also be purchased, along with popcorn and other snacks. If the lights weren't festive enough they have other activities, like a horse and carriage ride, and a full band/choir playing/singing Christmas music. In the last couple of years, they even had a Santa that was so realistic he had me helping little old ladies across the street (to show I was being good). The thing I love most about the Daniel Stowe Botanical Garden at Christmas is how peaceful it is at every turn. Yes, it can get crowded, but there are major stretches where I don't see a soul. Combined with the cold, Christmas music, and the lights it is one of the more peaceful and festive Christmas experiences in the city.
Holiday Home Tour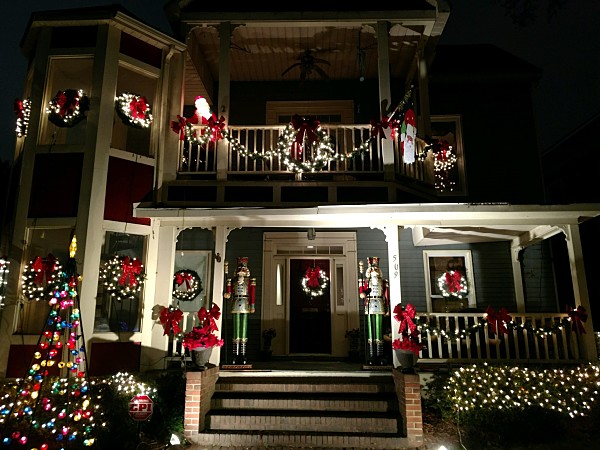 We have done this for the past two years, and it is another great way to get into the season. It entails walking through people's very nice, historic homes that are (usually) decorated. The tour takes place in Charlotte's Fourth Ward. While waiting to get into the homes, you can enjoy a neighborhood that is geared toward Christmas. There is music playing, people handing out cookies, etc.  The homes vary in decorative extravagance, but really given the location, all are envy worthy. Some homes have a better story, some are decorated nicer than others, but all are worth seeing. There is the bonus of getting a thimble full of liquor or a small piece of chocolate at the end of each tour. Just don't wear high heels, I think those are frowned upon..
Finish your night off with the Uptown Christmas Market, which is in walking distance.  By walking distance, I mean about ten minutes away. It is a lot like Old Meck with shops and things, except there is no brewery. There is however, beer and mulled wine, if you are so inclined. Walking around uptown is also a nice experience. The light displays Charlotte puts up are usually pretty good at getting me in the Christmas spirt. During the day they also have a place to ice skate, copying every major city in the US…
McAdenville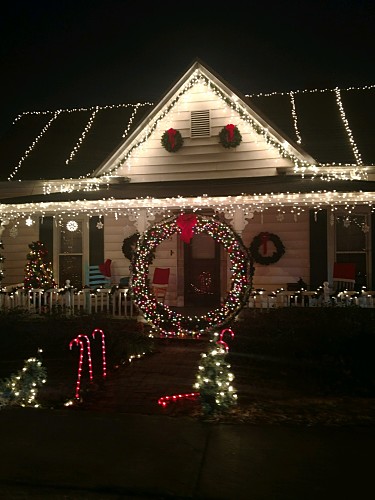 I went to McAdenville for the first time a couple of days ago, and I can see the appeal.. If your idea of fun is sitting in traffic for a couple of hours while looking at pretty good lights, then have at it.. To me it was like a brighter, more colorful version of my morning commute..minus a bit of the swearing. It is still fun, even while watching the parents drive through the lights and seeing the glow of the kids IPads and iphones in the back seat…
The town was mentioned on MSN as one of the countries quaintest Christmas towns. Therefore, I feel like I had to add it to my list.  Enough people have mentioned it to me, to where I got the gist of what was going on before I even got into my car. Of course, there is no there is no beer or mulled wine to be had, due to driving. One tip, leave about 20 minutes before the lights are set to come one, around sunset. Keep circling until dark if need be. The traffic is significantly less, although still bad, if you leave immediately before sunset. If you get there at the wrong time instead of spending Christmas in Charlotte, you will fell like you are spending New Years in McAdenville..
Christmas in Charlotte
That is the extent of my Christmas in Charlotte. It isn't Washington DC, New York City or even Detroit for that matter, but it does offer enough to make my heart grow three sizes too big. If only for a month and a half.. After that I go back to being the scrooge of Charlotte. If you are in Charlotte for Christmas, I wish you cold weather and a festive season.