I have already discussed getting to Santorini, and  where to stay in Santorini. It's time to add some meat to this conversation, and show why I am writing so many articles about this one spectacular island. Santorini inspired a lot of colorful language in me. For example, "this place is #!$@!ng amazing," or "mother !@#!$$! I don't want to leave." The island is like Athens cleaner, better-looking, richer (more expensive) sister. In some ways they are alike, in others they felt worlds apart. In my opinion Santorini is paradise, the island had everything I wanted. Whether you are after great food and wine, beautiful views, beaches, or history there are a ton of things to do in Santorini, Greece.
You can also pick the right hotel, and do nothing, which is just as fun as doing something. Of course, me being who I am, I can find things to complain about even in paradise. There are good and bad things in all places, in Santorini, Greece the good far outweighs the bad.
The Great About Santorini, Greece: The View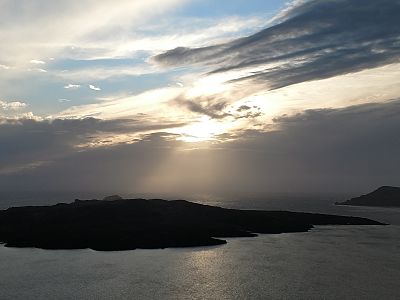 I saw pictures, but really, they did not do the island justice. The views here are outstanding. It was like I fell asleep and woke up in a snow globe (minus the snow), it almost looked fake. You think one would get tired of staring at the same view for five days straight, I am here to tell you that you do not. Just looking out to sea, watching the ships go by, was incredibly relaxing…but I digress.
It is difficult to go to Santorini and not feel as if you're staring into painting (and not some weirdo Picasso). It was funny was just how much the atmosphere improved my mood. The first thing I experienced when I woke up was a beautiful sea, ships sailing, and the peaceful sounds in the distance of some guy cursing at his donkey. There is no better way to start your day (actually, go back to the statement and add Champagne..).
The Good About Santorini, Greece: The Food
One of my favorite things to do in Santorini, Greece (well, anywhere really) is to eat. I ate everything in sight, part of the reason was that that food was so plentiful. It is similar to Athens (which makes sense) only a bit more touristy and expensive. On the other hand, it also felt fresher…  Yes, you will be hit with more tourist traps, but a little exploring goes a long way.
As mentioned the food here is fresh; so fresh that it gets slapped in the mouth by its momma. This, I believe, led to a strange occurrence. On this trip, even though 50% of my time revolved around me shoving food in my mouth, I barely gained any weight. Well 10lbs, but I have done more than that at a bad night at Sizzler. I know there is a point here somewhere, which is fresh food treats your body better. Eating newly caught fish, which Santorini, Greece has a ton of, or vegetables that were grown within a few miles of my mouth, treated my body well. It opened my eyes to the crap chemicals we put in our body and their effect on us.
The best eating experience I had was at Metaxi Mas, which served so many great dishes that I forgot to take pictures of half of them. They had a strange smoked trout chickpea dish, which I absolutely loved. Everything down to the bread was fantastic. Other restaurants did not disappoint either, I had a ton great experiences in Santorini. The calamari  and octopus at Taverana Katina in Oia, the eggs at the Athina Luxury Suites, even the Gyros are a must. Hit Lucky's Souvlakis and Nick the Grill (both in Fira) back to back and tell me which is better. Though the island is a bit touristy, there are a ton of great places to be found.
Things to Do in Santorini
Being the restless spirt I am, I was worried there wasn't enough things to do in Santorini.  My concern was 6 days was too long, I would be relaxed, but bored. I usually log 30K steps going from one historic site or museum (in between eating and drinking). Considering this island didn't get electricity until the middle of the 20th century, I figured there wasn't much going on; also, although I was in one of the bigger towns, it is small compared to the major cities I visited. My ignorance got ahead of me; there were so many things to do in Santorini I feel like I could have spent months there and not gotten to everything. Below are some of things we were able to get to on our trip.
Hike from Fira to Oia
The Hike from Fira to Oia was one of the highlights (and most terrifying) part of our stay. It was a highlight because the views were beautiful, it was terrifying because I was looking at those beautiful views from a 1000 feet up. Ok, I might be a little bit biased, because I hate heights, but still there was very little fencing between you and the cliff. In some areas there was a nice barbed wire fence, I assume to encourage you not to jump down the cliff? The slippery gravel combined with the jaded fence made it certain you would either bleed to death, or develop lock-jaw once you hit the rocks below..
In all, the 3.5-hour hike from Fira to Oia, was tiring, but more than satisfying. You get to see some other towns in Santorini, you experience the nicest views in the world and get some great exercise. As mentioned, this is not an easy hike, or for the faint of heart, yet somehow, I witnessed a guy carrying two kids, two overly friendly dogs, and a lady in dress shoes and an evening gown. I am in full workout gear, and she was walking up the side of a small mountain like she was going to the ball. The hike from Fira to Oia was an amazing experience and even with the danger, made for possibly my favorite single day of travel.
Wine in Santorini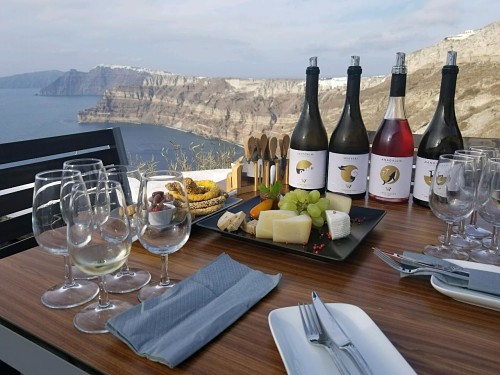 This was truly a surprise to me, the wine on this island was unexpectedly delicious.  I heard the wineries were good here, but people always say that wineries are good, no matter the location (including the poison in North Carolina). I was skeptical about their claims, especially since the climate of the island is so dry. Well, once again I was proven wrong, the wine was amazing. Most of it was at least, the Vinsato tastes like I am drinking a melted lollipop, but everything else I enjoyed.
We hit two wine spots (but drank many local wines), the Venetsanos Winery, was recommended to us by every local around and it didn't not disappoint. The tour was ridiculously inexpensive, the tables have, shockingly enough, an amazing view. As for the wines they were excellent, the tasting was worth every penny. They happened to have a very interesting firework display that night, which if it was any closer it would have set me on fire. I mean this literally, we were right on top of the display.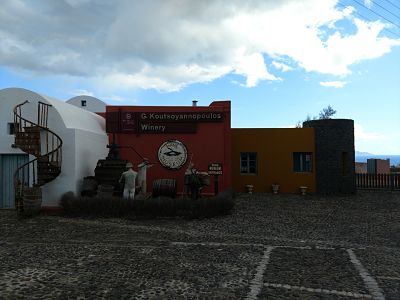 The next place we hit was the Wine Museum, located in the town of Koutsoyannopoulos (funny the name doesn't look Greek). Not really a winery, but they had tastings just the same. The town is a 20-minute, 2-euro bus ride away from Fira. At first, I thought it was cheesy, with the creepy Disney land like characters on display. The more I got into it the more I enjoyed the vineyard.
I learned more about the history of wine (and the island) than I thought possible. It also really puts you in the mood to drink. After visiting the museum, I have a whole new respect for the wine I consume and the work that goes into the bottle. The tasting at the end will most likely have you trying to figure out how to fit multiple bottles of wine in your luggage. If you are looking for things to do in Santorini, look for a spot to get a few bottles wine….
History in Santorini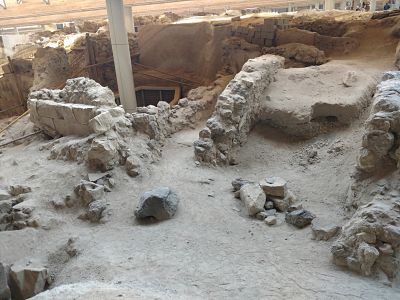 Santorini is not Athens, there aren't ruins around every corner. There also isn't graffiti around every corner, so it works out well. That is not to say there is no history on the island, it just doesn't slap you in the face like it does in Athens. The Akrotiri Archaeological Site is a well persevered town that was destroyed by the volcano the island was formed from. This town is a lot like Pompeii, except the people where smart enough to get the hell out.
I guess the Greeks, unlike the Italians, were just not that curious when they saw the smoke pouring out of the Volcano. The Thira Museum in Fira is an exceptional compliment to the site, just don't trust the hours on the door.  It was supposed to open at 10 am, yet was closed at 11 am. We were also told it would close at 3PM, but it was open at 4PM. Even though the hours of operation are merely suggestions, it was well worth the price, if you can get in for a viewing…
These aren't the only historical items on the island, but they are the best and most popular. There are plenty of other sites and museums such as the Byzantine Castle Ruins in Oia, the Archaeological Museum Fira and countless other small, yet significant spots.  With respect to the length of this post I didn't mention plenty of other things to do in Santorini. For example the beaches, because we saw some of them (Red Beach) but in October it was too cold to swim. There are towns to visit, churches, volcanos to tour, or even doing nothing at all, I can't imagine getting bored on the island…
Some Bad Things about Santorini, Greece: Hills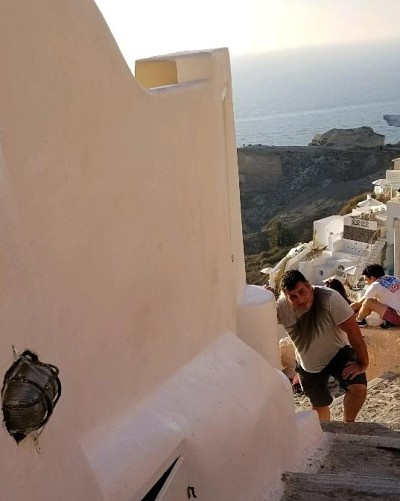 Even paradise isn't perfect, and I guess I can find fault with everything so here I go with my complaints. First, it is hilly, no, this is a lie, in some parts you need to be part billy goat or donkey to get around town. There are stairs and hills everywhere on Santorini. It felt like I was a grandfather telling a story, somehow, I would walk uphill both ways no matter where I went. 
The guys who carried my luggage can probably open coconuts with their calves from the workout they get.  I say this as a warning to someone who may have difficulty with hills, if you are injured, disabled, or just lazy you may want to take this into consideration. It may mean you will have to spend all your time looking at beautiful views from your Jacuzzi.
Other Negatives about Santorini: The Crowds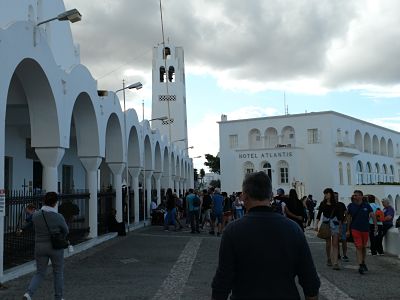 I woke up every morning and counted the cruise ships to determine just how many people will be crowding the streets. I went in October, the end of October, and it was still crowded. One can only imagine what it is like in July at peak season. I would sit there and watch the cable car lift scores of people up and down. They would clog the streets trying to break the record for the most selfies in an hour.
After two days I wanted to say, "hey this is my island! who are you part-timers". I have nothing against cruise ship zombies, but they seem to only be there for the novelty. Many would wander the streets slowly, sporting a sticker, instead of looking for brains they grunted "bad T-shirts". Most don't have time to leave the two major towns.
The 'shippers are often trying to use your hotels facilities and, thus, ruin the peace. Afterwards, they fill restaurants all getting the same meal from some tour, then are forced to rush back to their ship. This way they can gamble and enjoy the nightly spoils of two-day old shrimp and endless pasta. I am starting to sound like an Anti-Cruiser (I just made this term up). Maybe I was mad because I know you can't begin to appreciate this island in the 8 hours the cruise ships allow. Meanwhile you're clogging the streets keeping me from my Gyro! Ok, maybe I have a slight bias against the cruise shippers…
In Closing: I love Santorini Greece
Yes, that is me getting mushy. I can and will write more including a restaurant report. I do this for one major reason, it keeps me thinking about Santorini. The more I write, the more reasons to look at the pictures and relive the experience. This is about as close to heaven as I ever gotten. From the hotel, to every corner I explored, there was nothing but pure beauty.  The island lives up, leans in and gives over to grandeur, I couldn't image you having a bad time, no matter the season…