Before I give my opinion of Santorini on a whole, I need to give praises to the hotel that helped make my stay in Fira, Santorini so amazing. The Athina Luxury Suites may be the best hotel I have ever stayed at personally, and I have travelled all over the world. As I think back to my visit, the Athina Luxury Suites checked off all the boxes: value, luxury, location and that is just scratching the surface. If you are asking where to stay in Santorini? The short answer is Fira…The longer answer is The Athina Luxury Suites in Fira.
It may seem weird that throughout this article, I am gushing like a school girl over the latest boy band; especially if you consider just how much I enjoy trolling bad places (it's just more fun). Fortunately for me, this hotel had very little for me to complain about. If you look at the TripAdvisor reviews (below link) you will see I am not alone. I don't always put much weight in other travel sites, but Tripadvisor usually helps me get an idea as to where I want to start. It can also be useful to warn you against a nightmare establishment or an unsafe hotel.
The Athina Luxury Suites not only received great reviews on this site, but also all of my fit my criteria, alas, the Trip Advisor reviews only go so far. Lucky for you my golden pen is here, and I will give the hotel the full review it deserves.
The hotel is located in Fira, one of the two "main" towns on Santorini (the other being Oia). Fira is the most desirable location to stay in my opinion, for several reasons. First, the views are amazing, as magnificent views are incredibly easy to come by in Santorini, but Fira has the best. Secondly, there is a lot around in terms of restaurants and attractions. Everything we wanted to eat was a stone's throw away from the Athina Luxury Suites. We must have hit 30 bars and restaurants within the area and still didn't get to everything.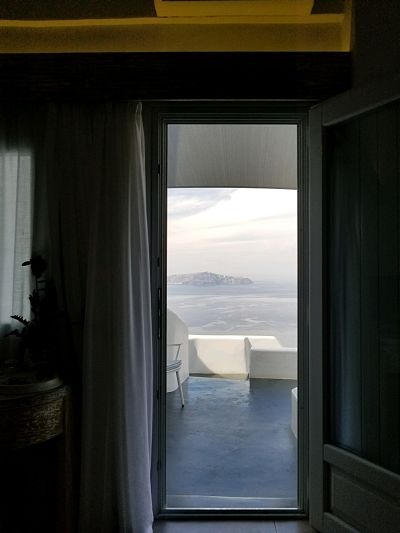 Lastly, if you want to (and you should want to) hit other towns, the bus station is a 5-minute walk down the road. The taxi station is also very close, which is perfect if you want to go to one of the four wineries in a row and not rent a car. As mentioned, unless you are in someone's trunk,  the views in Fira are all amazing. The Athina Luxury Suites is no exception, every time I looked outside I ended up staring for a good 10 minutes. For any trip to Santorini, the Athina Luxury Suites is in a perfect location. The picture above was taken while sitting on our bed.
The Room at the Athina Luxury Suites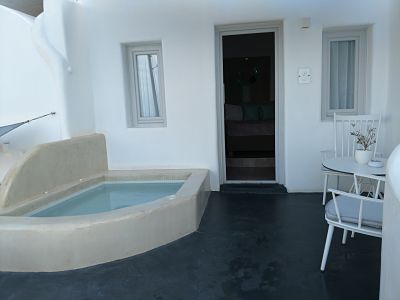 I might be a little biased here because I paid extra for the honeymoon suite, so my room had all the bells and whistles. The extra cost was well worth it for what I received. When deciding where to stay in Santorini you need to balance quality with cost. Luckily, the upgrades were extremely reasonable. Even without the upgrade the rooms were great.
To begin with, the outside was amazing and most rooms have a table in which breakfast is served to you every morning. Folks, this isn't your standard bin of burnt bacon and cold eggs (sorry Holiday Inn), it is top notch. The Athina Luxury suites serves a high-quality meal, you are given a menu with many great choices. We stuck with Greek yogurt, real honey, two different types of eggs, some Champagne, and freshly squeezed juice. Even writing this I am cursing the crap food we have in Charlotte.
A majority of the rooms have a table and chairs on one side and a hot tub on the other. Having an individual hot tub right outside the room, combined with being served champagne every morning made me more than a little spoiled. I am still wondering what the hell happened when my alarm goes off at 5:15 and I find myself home, without room service, but I digress… Sitting in the hot tub, looking at one of the most beautiful views in the world, eating a breakfast, made it so I didn't want to move, and I haven't even gotten you inside the room.
The room itself was spacious and comfortable. The basic amenities where all there: safe, fridge, closet, extra space etc… There were also nice touches like Hermes bath soaps, I barely know what Hermes is, but my wife does and it is apparently top notch. The bed was a king, spacious and extremely comfortable. If, by chance, you aren't comfortable that can be fixed. I have never sceen this before, but the Athina Luxury Suites offered a pillow menu..just in case yours wasn't to your liking. There was a clear "what the f$ck" moment when I saw this menu…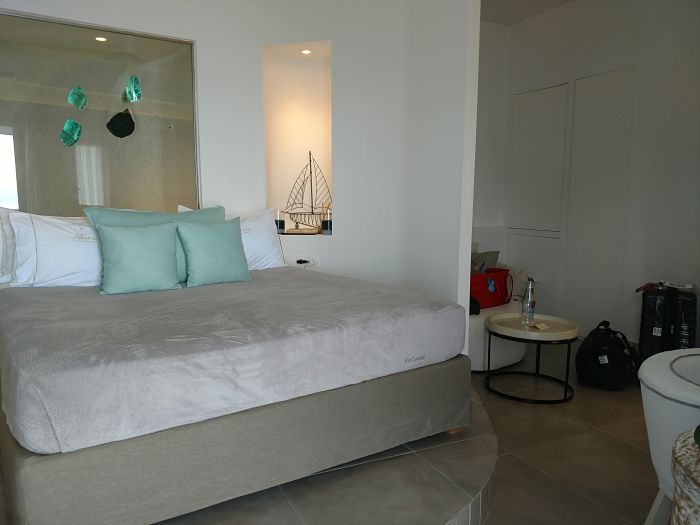 What really sealed the deal was one of the main amenities in our room. Now I was told only two rooms have this, but we had a nice size steam room in the room. We used this almost every morning. Once again, I never imagined I would see this inside a hotel room. Usually the only steam rooms in hotels have elderly naked men in them, who make me more uncomfortable then if I was sitting in a meeting with Louie C.K.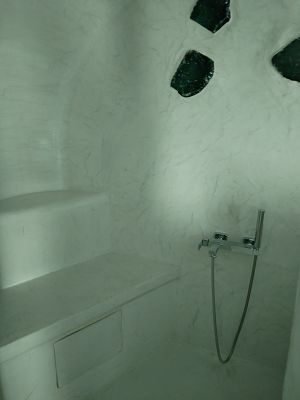 The only thing I wasn't crazy about was the location of the bathroom: although it was nice, its proximity to the bedroom left something to be desired. All hotels room in Europe and most in America suffer from the same problem, a little less privacy than I need. This is not a trend that I like, but every culture is different. Besides this, the bathroom itself was as great and just as comfortable as the rest of the room.
The Good About the Athina Luxury Suites in Santorini: The Service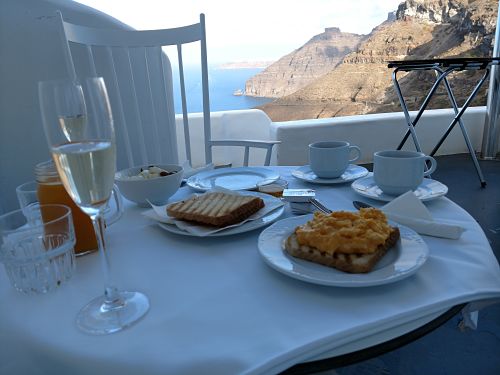 A beautiful hotel can be transformed into a nightmare with bad service. The Athina Luxury Suites was only enhanced by the people they hire. The Athina Luxury Suites is a smaller hotel, with only 14 rooms. This may be a factor in why you get much more of a personal touch than most hotels. The small size is not the only reason for the great service. Somehow the owners rounded up some of the nicest, most competent people to ever work in the industry. Sara, the manager, was spot on with any request I had. Whether it was a good recommendation on a restaurant, something needed for the room, or just someone to chat with, she was fully available.
Everyone in the hotel was great. The bartender (whose name I can't remember), was fun to be around and always in a good mood. Even the people delivering food were friendly and accommodating. We were given a complimentary bottle of wine when we checked in and they must have used The Flash to deliver it, because we called for it, within 20 seconds it was at our door.
Breakfast was always on time and with a smile. Anything you asked for you got with none of the attitude you get in many other locations. I guess if I lived in paradise for 7 months out of the year I probably would be happy all the time. Still it is rare these days to see such good service. Maybe it is just the way Greek people are, but it made the stay that much better. It was almost like staying at a really accommodating friend's house, without a cat jumping on your head at 2 AM.
The Cost of the Athina Luxury Suites
I knew I didn't want a run of the mill experience on this trip. Given I was going to the expensive Santorini, I knew I was going to be paying more for it; the good thing about going in October, the prices are high, but not ridiculous. For the money, the Athina Luxury Suites is the best value I have experienced in a hotel. As mentioned I wanted all the bells and whistles from a hotel, so I picked the honeymoon suite. The upgrade was a deal, it was only $20 more a night, using Hotels.com.
The hotel cost me $275/night, this included breakfast. The $275 is during offseason, it may vary greatly, so click any link to compare prices on Tripadvisor. Admittedly, this isn't super cheap, but it was worth every penny. Comparably, I just booked a hotel in Ashville, NC and I paid just as much. The difference is I booked the Ashville hotel for the middle of the week. I also did not upgrade the room. When I factor in the amazing breakfast I received, and the amenities in the room, it was a great deal.
The Amenities of the Athina Luxury Resort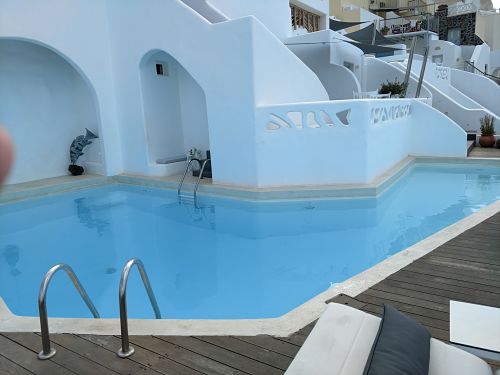 This is not a big hotel, but it does offer some nice amenities. There is a restaurant with the option of a private dining experience. I, unfortunately, did not try this because I was on the prowl for squid after breakfast. The pool was nice, overlooking the beautiful Mediterranean Sea. It was cold in October, but going from the hot tub to the pool was very relaxing. There is a small gym that I told myself I would use daily, but only popped my head into… The hotel also has a bar that opens in the afternoon with the same great view as the pool. Really, it had everything I needed, making it difficult to leave every morning.
Closing: Where to Stay in Santorini?
After re-reading this, I sound like a PTA/OCD mother talking about her honor roll student, while flashing pictures of the last soccer game… I may be going on and on about how much I enjoyed this hotel, but it was that good. The hospitality team treated us like royalty, and I think everyone should be pampered like that when on vacation. I don't think it is possible to stay at this hotel and not have an amazing time. I wouldn't want to meet the person who didn't, because he is a miserable S.O.B. Is this the best hotel in Santorini? If it isn't I don't want to know about a better establishment. I already am suffering enough not being able to live at this hotel permanently..
One last thing I should mention is that the hotel closes for the winter, like most of the Island. It still is a good idea to book early for next season.
As mentioned the prices vary throughout the year, so if you're flexible, check different dates. The link below will allow you to play around with the time and booking site.
The Owner of this site may get an affiliate commission for the links in this article.