After this last trip, I feel like this blog will be renamed, Man flying to Greece, because I have so much information to share. Spending tens days in the country, with four in Athens, Greece (6 in Santorini) I saw a lot in the relatively short time we were there. The Holiday Paradox was in full effect, because it was like my wife and I had been gone for months. Greece is an amazing place and surprised me on many levels. I didn't realize just how much I would love the country.  Yes, as usual, I ate my way through it, leaving octopus fleeing for their lives. In many Greek restaurants in Athens there were warning posters of me.  I ate a ton of food in Athens, Greece, but the country has a lot more to offer than just great food.
Athens was interesting, intriguing and often awe-inspiring, as it seemed to encompass a lot of the best and worst aspects of many other cities. It felt foreign, yet comfortable and familiar.  I tried to see as much as I could in the first four days I was there (and the last night).  I strapped on my cargo shorts and fanny pack and walked around like a tourist (actually I wore neither of these things). I wanted to hit as much of the city on foot as possible to get a feel for it. First things first…I had to eat.
The Good About Athens, Greece: The Food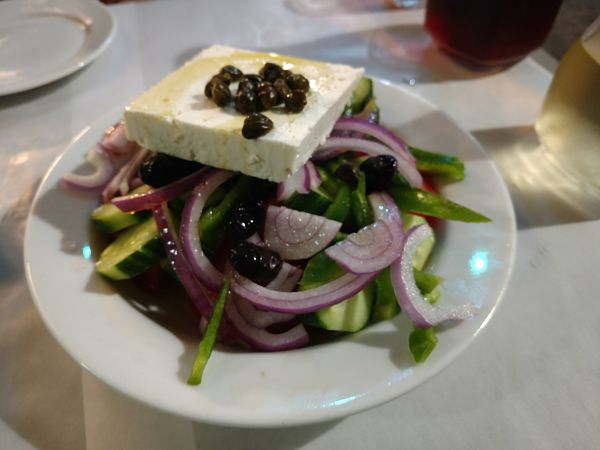 There is only one (hyphenated) word I would use to describe the food in Athens, that is mother !#@!@ delicious.  The other word I would use is "fresh." The fish were so newly caught their families didn't even know they were missing yet. We only ate at Greek Restaurants in Athens, Greece…you don't go to the beach to snowboard. Therefore, we weren't going to any Italian, English or American establishments in Greece. Once again, I am going to whip out my soap box: who are these people eating pizza or McDonalds in Greece. I guess if you have eaten so much calamari that you're growing a tentacle you might need to deviate, but not me.
The realization of how fresh the food was started with the first meal at the restaurant Atlantikos in Athens. After being starved and deprived of water by British Airways we arrived at this literal hole in the wall, tucked away in an alley. The small menu had almost nothing on it but seafood. We were warned that the liter of wine and numerous requests might be too much. The owner didn't know how hungry we were for real seafood. Everything we ate was amazing. I paricuarly enjoyed the sardines, something we just can't seem to get right here in the United States.
The freshness of the food made it a pleasure to eat daily. I hit all the obvious things, starting with a Greek salad (news flash: it does not contain lettuce) at every meal, lamb and tons of seafood.  I also had rabbit, trout and as many other species as I could get into my mouth.
Athens Central Meat and Fish Market encompassed all the best qualities of the food. With meat and fish being peddled by what seemed like hundreds of vendors. It was clear from the look and taste that these creatures were gleefully living hours earlier. I had shrimp that followed the correct path, from the sea, to the market, to the grill, to my mouth in the time span of a few hours.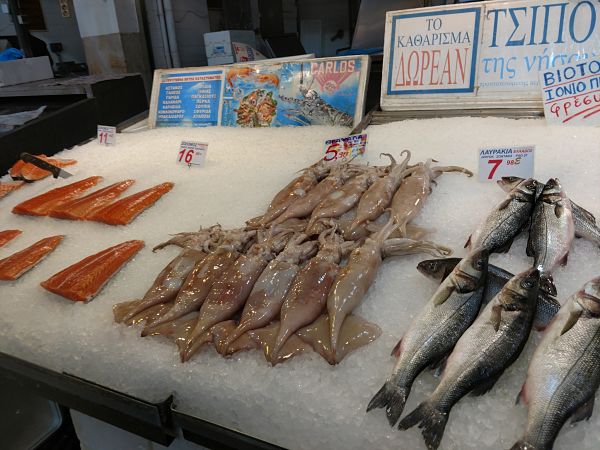 The fruit was so fresh it was as if it was grown in my mouth (I may or may not have plucked fruit from a tree..). The vegetables had the same taste. I feel like I finally understood what produce was suppose to taste like. Overall, I will be updating my post for the best cities for foodies. Greek food jumped to the top of my list, and there wasn't even a slice of pizza to be had.
The Good about Athens, Greece: The People
The people of Greece, for the most part, were some of the nicest, most helpful people I have encountered in the world. It was like I received all the smiles of those in Istanbul, without ending up in a lamp shop. In Athens, Greece we stayed at the Athens Status Suites, where Ellenia who worked the front desk was wonderful and incredibly accommodating, offering advice, anecdotes, flowers in the room and a warm welcome at every encounter.
When we switched locations staying at the Athina Luxury Suites in Santorini; the hotel manager Sara was also amazing, as was the rest of the staff. I am from New York, when I go back to stay at hotels there, I feel blessed that the staff didn't spit on me.
Restaurants were also more than accommodating. We visited one (the only one I saw) inside the fish market, to our disappointment he didn't have fresh calamari on the menu. Instead of just being happy we ordered, he literally disappeared to the market and brought back a squid the size of a cat that he was happy to grill for us. That kind of service was shown throughout Greece. Athens, Greece (along with the rest of the country) is possibly the most welcoming area I have ever traveled.
The Questionable about Athens, Greece: The History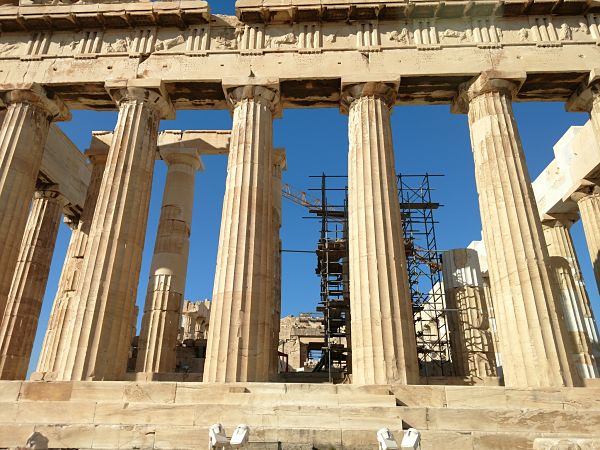 Athens is one of those places where you have to be careful if you're putting in a swimming pool, because you may unearth some 3000-year-old temple. History everywhere and it goes much deeper than just the Acropolis. The Roman Agora, the Ancient Agora, Hadrian's Arch, hell just ruins scattered throughout the city are something to marvel. The only city I have seen with more history pouring into the streets is Rome. Even that doesn't have sites that are as old as the ones in Athens, Greece. So how can anyone find fault with the history of the city? Well it takes a special kind of troll, and I, as many know, can be very special.
I have two pet peeves about Athens monuments. First, many of them are not 100% original. Like a really beautiful 75-year-old, you can bet not everything is real. I can see where the new marble meets the old; to me if you're adding marble you are not preserving you are rebuilding. Hopefully we won't see the Nike logo on one of the columns. On top of that there are cranes on the Acropolis 24/7. It takes away from some of the grandeur when it feels as if you're at a construction site.
My last gripe is that sites like the Acropolis suffer from their own popularity. Dodging thousands of people taking selfies, wearing strap-on water bottles gets a little frustrating. I witnessed a lady swat at a man that walked into her camera shot. I wasn't sure if I was at a historic temple or an MMA fight. Still I loved the Acropolis site despite these small drawbacks.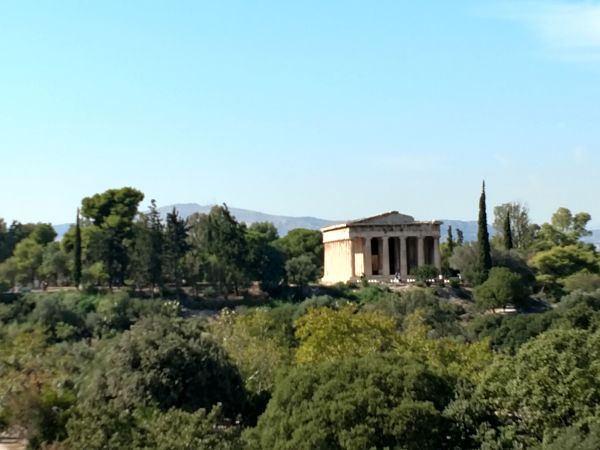 Many of the other sites are seemingly untouched. The Temple of Hephaestus (seen above) is beautiful and quiet. The entire Ancient Agora is extremely peaceful .With so many nooks of history it was worth the flight over there alone. It may not have the popularity or grandeur of the Acropolis site, but this might be a good thing.
The Bad About Athens: Athens is kind of Dirty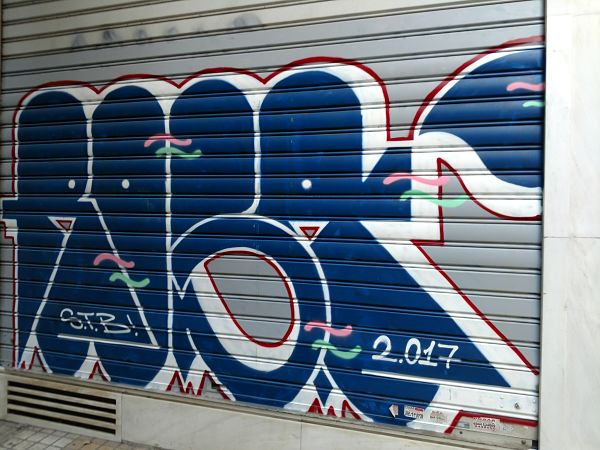 I really don't mean any disrespect, but there is no other way to explain, between the tourists and the not so speedy garbage service it seemed the entire time there were huge piles of garbage in many locations. I can live with this, but I can imagine the smell in the summer.
What gets me more aggravated are the "street artists" that have totally decimated the place. Many cities have graffiti, but nothing like Athens, Greece. It is everywhere, covering buildings old and new alike. It isn't even good street art, just tags that have ruined the aesthetics. Not like I would care if it is good or not, but if you're going to spray near a 1000 year old church, make it presentable. Between the garbage and the graffiti, it leaves the impression of a unclean city.
The Bad About Athens, Greece: Taxi Drivers
We had terrible luck with cab drivers in Athens. We took four cabs to and from the airport on our trip, I only don't remember one of them- he was the good one. The first guy overcharged us, then told us he doesn't take cards (there was a Visa sign on his car). The driver  proceeded to drop us off with 4 heavy bags in the "area" of our hotel. On the way back from the airport the second time we had a guy from Poland who couldn't speak English or Greek and used our phone for the GPS. The driver also had no clue where the hotels was (it was in the most popular tourist neighborhood!). He also had a melt down due to traffic caused by the countries weekly subway strike. Again, he also dropped us off about 300 feet from our hotel.
The last guy basically stole 10 Euros from me; this was after he almost got into a road rage fight on the way there. Knowing the bill is about 40 Euro, I handed him a 50 and he waves and says thank you. I knew better, I just didn't have the energy to press the issue. As in most cities watch your wallet with cab drivers.
Conclusion
Despite the messy atmosphere and cab drivers that are less trust worthy than Bernie Madoff at a charity fundraiser, the country itself was amazing. While Athens, Greece is worth visiting for the food alone; this was one of those cities that just felt like home. Athens is a place where I walk from a spot to stuff my face, to a spot where I can look at something built 2000 years ago, then back again. I never felt unsafe in the city; Greece is one of the most relaxing places I have been visited, thus far….