If eating were an art, then my stomach painted a master piece on my last trip to New York, NY. I took this journey with the purpose of not only trying all the foods I can't get since moving to Charlotte, but also as many new dishes as possible. I was on a mission to find the best food in NYC. To do this I called upon my old friend of some 35 years.  We relived our high school days by eating our way through the city. Later with the help of my wife, I was able to get my second (and third) shots in. Eating in New York should be on every foodie's bucket list.
I tried a little of everything, adding enough pounds to where the airline considered charging me for a second seat on the way back. I was also an equal opportunist, I had Chinese, Italian, Greek, possibly Danish and traditional American. It was the United Nations in my stomach. I left with a renewed appreciation of what New York has to offer. One disclaimer, I did not get to all of New York, in fact I never left Manhattan. I got in what I could in only 2.5 days. 
Food in NYC: Day 1
Jumping into a cab (that got pulled over immediately) at JFK I make my way to meet my wife and best friend at a Times Square hotel, called The Hotel Mela. I usually don't like the area, and lucky I ate very little there. Grabbing a drink at the bar next door, my wife let us be, she didn't want to witness the abuse I was going to put my body through. We quickly jump into another cab and head to Bleecker Street. Anyone visiting needs to know the best food in NYC is far from the touristy Times Square area.  I always loved the food in the West Village, so this is where I started….
Joes Pizza vs. Bleecker Street Pizza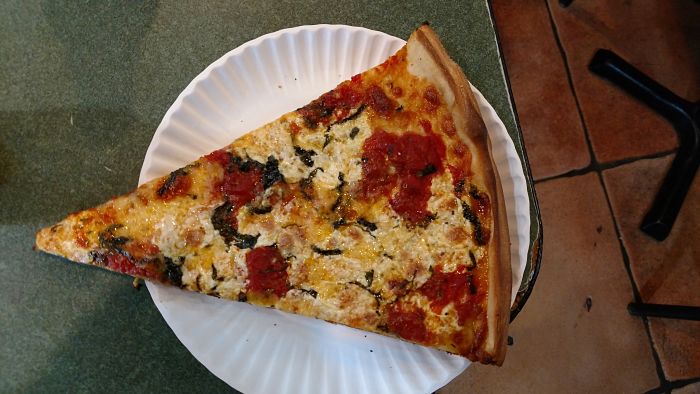 Immediately we hit Bleecker Street Pizza, which some consider to be the best pizza in New York. Of course, a ton of different places say that, so I wasn't buying it. We ordered only one slice, the Nonna Maria and a couple of beers. It was a solid start to the feast, nice crust, a bit thinner than I wanted, but good. The fresh mozzarella and the seasoning added a nice mix of flavors. The slice was great, but not the best. The food in NYC is so plentiful, you need to be near perfect to be the best. The next spot may have been.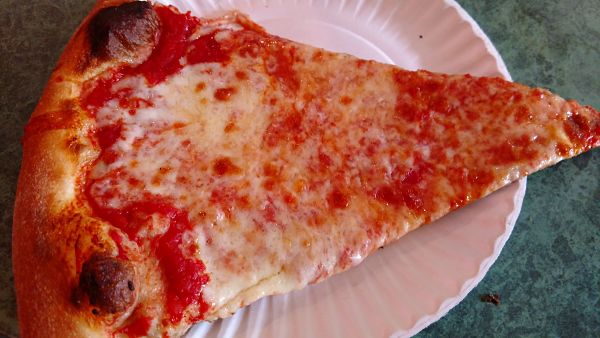 Moving on we walked around the corner to Joe's Pizza, which is legendary. Here I ordered a Sicilian and regular slice. I usually judge all pizza on how well they master the plain slice. Joe's slice was outstanding. I used to think the place was more hype than legend, but I was mistaken. The Sicilian was good, but the plain slice was near perfect. Great crust, with a nice mix of crunchy and chewy, perfectly seasoned sauce, it had it all. I hope this is the best slice in NYC, because if it gets better I would need a program to kick it. Of the two places, I give the edge to Joe's.
Shanghai Cafe Deluxe in NYC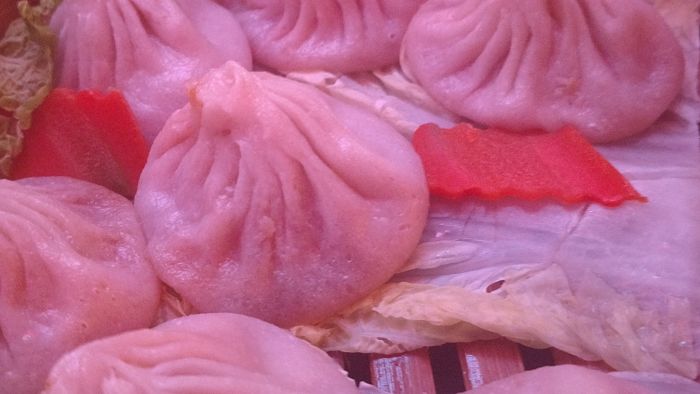 Three slices and a few beers in, we have only gotten started, and needed to mix it up. Ducking into Little Italy for a couple of cannoli's to get out of the rain, it is time to sit down and eat like normal people. Decent Chinese is another luxury I don't have in Charlotte, and I had a hankering for some soup dumplings. We made our way to Shanghai Café Deluxe. Service left much to be desired, we were almost ignored, and watched as the rest of the table got their meals (they seat smaller tables with strangers). Luckily, we had a bit to eat earlier. Finally, our order came, which consisted of two orders of Xiao Long Bao and two orders of dumplings.
For those who have never had Xiao Long Bao, you should know these can be weaponized, with extremely hot liquid pouring out of them. I knew this, yet I still proceeded to burn the hell out of my mouth. It was worth the wait and the pain, they were delicious. The soup was flavorful, the dumplings perfectly chewy…the whole experience was exceptional. To recap the food was excellent, the service left a lot to be desired. Please note they only take cash, later in the trip I found this out the hard way. Chinese is some of the best food in NYC, Shanghai Café Deluxe was no exception.
Prince Street Pizza in NYC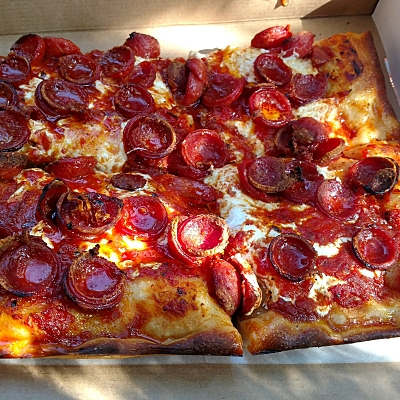 Eating in NYC as I explained is a journey not a destination; as such we continued on this journey until we stumbled upon a place I wanted to try for a while..Prince Street Pizza in NYC is known for one thing, their pepperoni square pizza. I don't even like pepperoni, but I grabbed my ticket and waited, 20 minutes later I am presented with two large (and very hot) squares. Once again New York's pizza scene has yet to disappoint, the pepperoni was the star here. Smaller slices of pepperoni, with a good crunch and a good amount of spice. It may be the perfect peperoni square. Of course, I combined the scorching I got from Shanghai Café Deluxe with burning hot pizza, and I may have lost 30% of my taste buds.
Wrapping up the Night
Moving on after four hours of intense eating and drinking, my friend's day was coming to an end. Joined at the bar by my wife, he had time for a quick drink at Angel's Share, the speakeasy in the East Village. I was really impressed by this spot. I am by no means an expert on speakeasies, we only have one in Charlotte.  I was excited by the sheer ability of the bar tenders. The place had a true speakeasy feel, tucked into the back of a sushi restaurant. I ordered some weird concoction with egg in it; Alcohol and eggs are just the right combination for a guy who just ate 4 pounds of greasy food.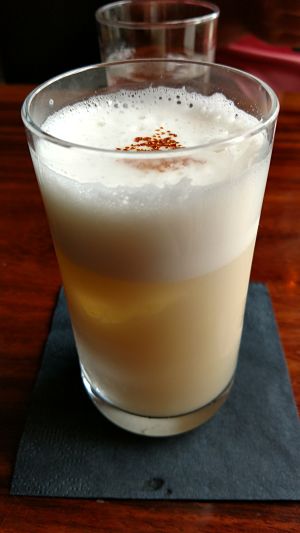 Moving on from here, my wife had not eaten and for me it was almost an hour, so we moved on to an unassuming restaurant whose name I cannot seem to remember. I believe some sushi and skewers were enjoyed. There was also some random comedy down stairs.  At this point I was starting to feel it, I realized that I needed something sweet. Given our hotel was near Times Square, I figured a piece of Juniors Cheesecake was in order. It felt touristy with the line out the door, but obviously Juniors is legit. I bring it back to my hotel room, drift off with that and one last cocktail. Tomorrow is a new day.
Eating in New York: Day 2
Day 2 started with me running around looking for freshly squeezed orange juice. Maybe my wife thought we were in Istanbul, but she wanted it and I was determined to find it. The task appeared to be more daunting then I realized, but after around an hour, I was able to find some. All that searching made me hungry so I of course needed the classic egg sandwich. If you have lived in New York, and since left, you know how much this sandwich is missed. I am not sure why other cities in the United States can't get these right, but I have yet to find a good egg sandwich anywhere but New York. The picture below says it all..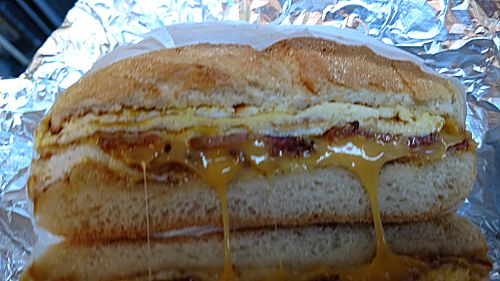 Tavern on the Green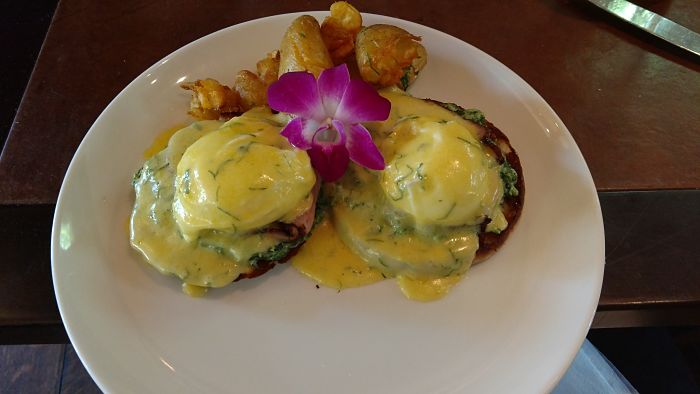 After some walking through Central Park, we decided that we need a liquid refreshment. The Loeb Boathouse is a great place to get out of the heat where we had some tasty, albeit expensive cocktails. Not eating the food there, we made our way to Tavern on the Green. This is a old school New York institution, with a turbulent past. The restaurant even closed for a while, then reopened in 2013. I can't recall if I ever went there as a child, but it seems like the type of place my parents would drag me..
The restaurant itself is beautiful, the outdoor patio looked especially nice. Eating in NYC comes in all shapes and sizes and while the food in NYC can be amazing, some restaurants can also fall flat. Tavern on the Green did not wow me. As mentioned the restaurant looks great, but I didn't get to appreciate the atmosphere. Our "seat" after a 30-minute wait, consisted of a table right next to a very loud bar. One man was so obnoxious we asked to be moved…and moved we were… to another area in the bar.
The food while looking great, lacked one key ingredient, taste. I ordered the eggs benedict, my wife ordered the crab. The crab was pretty good, because it's crab. The eggs benedict lacked any seasoning, so we took it upon ourselves to ask for salt. Twenty minutes later we received it. A good atmosphere can't make up for subpar food and poor service.
Taverna Kyclades East Village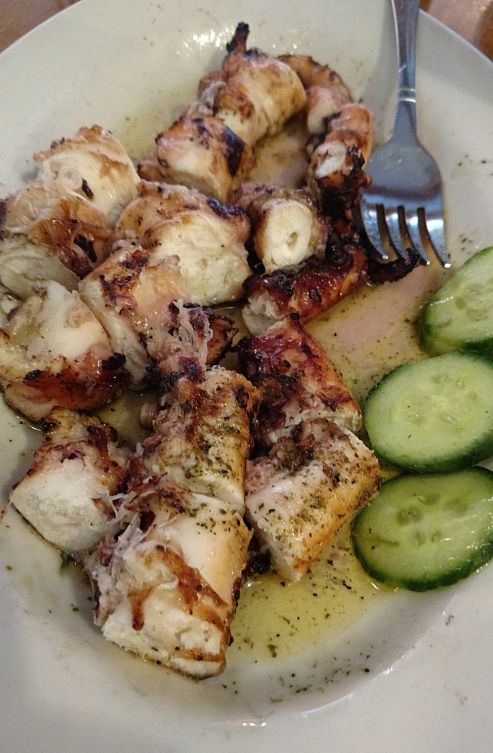 After a few museum visits, and only one dirty water dog (yes, for me!) we were getting hungry. Moving on to dinner, we needed to get the taste of bland benedict out of our mouth. A few cocktails, a bland start and a hot dog, just didn't do it. I knew what I needed: Pork Buns and Ramen, so we grabbed a cab to the East Village. I also knew my wife needed seafood. What happened next was the best accident of the trip. A quick google search and I stumbled upon Taverna Kyclades in the East Village.
The food here was so good that it inspired our trip to Greece in a few weeks. We tried to order somewhat light, given we were headed down the street immediately after. I had the best Octopus of my life at this establishment, and squid that was only beaten by Barcelona. We also were given a galaktoboureko that could start wars. I grew envious of others around us still eating, as we were leaving.  I always knew that the Italian and Chinese were top notch in the city , I didn't expect to find AMAZING Greek food.
Momofuku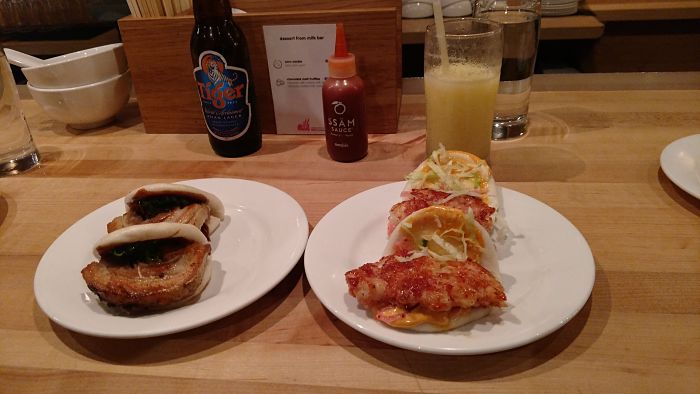 If you plan a trip with the intention of finding best food in NYC, then Momofuku is worth the hype. So, I had two dinners, I knew this going in. We started with their classic Pork Bun, and added a shrimp Bun to the mix (see above). The Pork Bun was so rich, flavorful (with more meat than fat) and delicious Porky Pig would have eaten it. The shrimp bun was also good, a nice crispness to it, but in all truthfulness, it paled in comparison to the pork. At this point, I noticed a strange sensation…I was full. I almost couldn't finish the delicious Ramen pictured below. After a few more sumptuous bites, I waddled back to my hotel room…. Of course, there is always room for Mr. Softy ice cream on the way…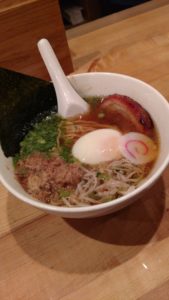 Eating in NYC Day 3
I will wrap this up, not because I didn't eat well in the 5 hours before the plane, but because it was a lot of repeats. Of course, another egg sandwich was grabbed. I also had to revisit Shanghai Café Deluxe for some more dumplings, to let my wife experience them. The only thing I did try that I had not tried before was a gourmet hot dog from Danish Dogs in Grand Central Station. Oh and some fried oysters…plus slice of Artichoke Pizza…Ok that was probably more than enough for 2.5 days. My waistline proved it to me….
Recapping the Best food in NYC
Eating in NYC needs to be strategic, if you had a day there and a limited eating opportunity, I would say try to hit Joe's Pizza for the classic slice. Stroll over to Prince Street Pizza for a pepperoni Square. Maybe a lunch at Shanghai Café Express for some dumplings. Dinner in the East Village at either Momofuku or Taverna Kyclades (or both).
Other places I can vouch for, that I skipped this trip: Ess-a-Bagel, probably the best bagel in Manhattan.  For Italian hit up Crispo or Babbo Ristorante Enoteca, both are places that do not disappoint. Of course for a sandwich you should try the classic Katz Deli or Faicco's Pork Store, the eating goes on and on. The opportunities to give yourself heart disease are endless in NYC, but I can't think of a better way to cause my own demise.