Before traveling to Turkey the more OCD of us will be whipping out our spreadsheets to help figure out a daily budget in Istanbul. The cost of a trip to Istanbul will vary depending on your individual needs. My goal here is to touch on many money related issues for your trip to Istanbul. Everything from the cost of food in Istanbul, to getting money in Istanbul, and average expensive will be mentioned. This should give you a rough idea as to how much you should set aside when budgeting your trip to Istanbul.
Getting Money in Istanbul
Like most of the civilized world, getting cash in Istanbul is simple…kinda. First, with all that has been publicized it is no surprise that the Lira has dropped sharply against the Dollar. As of now (May 2017) you can buy one Lira for about $.28 US dollars. I added the date in hopes that the future reader, of ten years from now won't get confused. So how do you get Turkish Lira? Just like most currencies there are several options. First, what not to do…. don't exchange money from the airport or hotel, they are in the A-hole ripping business.
If you want to show up with some Turkish Lira order it from your bank, they will FedEx it or you can just pick it up. I did this for the first time using Bank Of America and it was easy and cheap. Secondly, an ATM is a decent option, but not without risks. Not all ATMs in Istanbul are safe or consistent, stay away from ATMs near tourist sites (great rule of thumb for travel ANYWHERE!). The five times I took money out from the ATM in Istanbul I was charged $280 per $1000 lira…except once, where the exchange rate shot up by more than 10% costing me $310 per $1000.
Funny thing is, my wife got money out in the machine next to me and it was feeling generous, charging the standard rate. Moral of the story, be careful when using an ATM in Istanbul, Turkey. Find one that works, and make it a touch point by taking out a lower amount and use it throughout the trip. I must also point out I have heard, first hand, about people getting their identity/card number stolen. I would imagine trying to work with the Turkish authorities on getting your Identity sorted out in Turkey is about as fun as getting a proctology exam from Edward Scissor Hands. Moral: be careful which ATMs you use and when you use them.
Lastly, as a world traveler, you should invest in a good travel Credit Card, with no transaction fees. This will save you a lot of hassle, needing paper currency for only necessities. Such as the stomach churning wet burgers sold in Taksim Square.
.
Cost of Airfare and Accommodations in Istanbul
This is where I will brag a little, because I found a hell of a deal. I'm not sure if there was a fire sale or  rumors of another coup, but I was happy. Two of us flew from the United States to Istanbul and stayed in 5-star hotel (6 nights) for less than $1500 total.  I know most of you are thinking that this was due to a "probably going to die" discount, but I assure you this was not the case. The next day the price went back to normal. Sometimes there is just a glitch on the travel sites or cheap airfare plummets the price.
I know you can give two %#$@ about my savings, what can expect you to pay for a trip to Istanbul? I would say around $2400 for two people for Airfare and Hotel. To me that's the max anyone should pay, really aim for less than $2000. You can easily find cheaper rates if you start early and check for daily deals. Obviously there are other factors, such as the time of year and hotel class that will play a factor.
The hotel I chose was the Walton Hotels Sultanahmet, a five star establishment, which I had mixed feelings about. The price was right and it was in a great location, it just fell short in some areas. Still, if you want a nice, boutique hotel in Istanbul check out the below reviews.
Cost of Food in Istanbul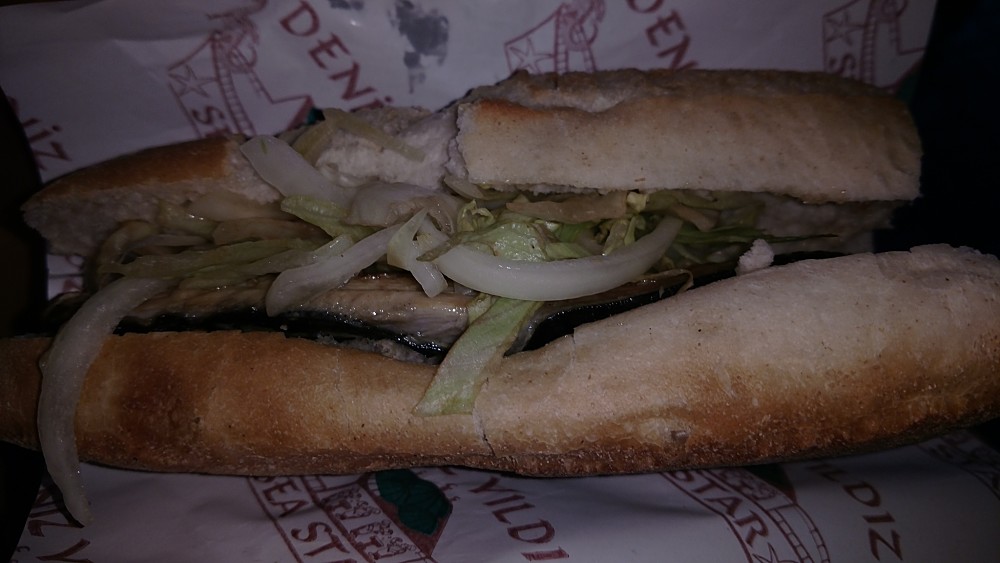 Now for the important things, what should my daily budget in Istanbul be for eating? What is the cost of food in Istanbul? More importantly, how much is alcohol in Istanbul? Well, once again it depends, but I will say this, you can eat well cheaply. If you are the type to stick to street food and beer, it will be extremely inexpensive.  If I had the salary I have today and the cheapness/quality of street food available to me in Istanbul, I wouldn't live to see 50. I am talking delicious lamb filled sandwiches for 6TL, desserts for even less.
If you like seafood there is plenty of that as well. Along the Galata Bridge there are a bunch of seafood places, all similar, serving calamari, octopus and fish. The good news is the bill rarely comes out to more than $30. I would say the majority of my sit-down meals were around 100-150TL, or $28-$42. This is with alcohol and always leaving a tip. I had one of the best breakfasts of my life at Erhan, for under $20 for two. Oh, and you always get free tea at the end of the meal. I like free things so I thought I would mention it.
So, in conclusion I think for two people eating a combo of street food and sit down meals at cheap places the cost of food in Istanbul is $70 per day. This is with moderate alcohol consumption.
Moving to alcohol, beer was around $4 for a very nice sized beer, I always drank the local Efes which is the cheaper option. A good bottle of wine shouldn't cost more than $25, and even that is pushing it. Mixed drinks varied greatly among establishments so it is hard to pinpoint a price.
So to Recap below:
Item

Cost of food in Istanbul (USD)

Beer (bigger than a pint)

 

$4.00

 

Glass of Wine

 

$4.00

 

Cheap Sandwich (lamb, fish mystery meat)

 

$4.00

 

Fish Sandwich near the docks

 

$3.00

 

Turkish Breakfast for 2

 

$18.00

 

Fresh squeezed juice

 

$3.00

 

Sit down meal

 

$30.00

 

Bad Street Food Corn

                $1

  …

and your soul
One last note, a service charge is on many bills so check them carefully.  I felt like I was robbing the restaurant at times so I tipped generously for the most part. The cost of food in Istanbul is so inexpensive that it will inspire you to open your wallet for good service.
Cost of Attractions in Istanbul
I assume you don't want to sit around and stuff your face all day when visiting Istanbul, you will most likely want to waddle into some attractions. Luckily almost everything in this town is inexpensive. Right off the bat, you should get the Istanbul Museum Pass for 85 TL (around $24). It is sold in numerous locations, just pick one up at any major attraction that takes it. This will let you into most of the main attractions, such as the Hagia Sophia Museum, Topkapi Palace Museum, Istanbul Archaeological Museums. I am certain that the Galata Tower is not included, but the cost for the Galata Tower is only around $5. Below are some of the costs for the major attractions.
Attractions in Istanbul

 

TL

Us Dollars

Free With pass

 

Istanbul Museum Pass 

85

 

$23.80

 

Haagia Sophia

30

 

$8.40

 

 Y

Topkapi Palace Museum

30

 

$8.40

 

 

Y

Istanbul Archaeological Museums

15

 

$4.20

 

  Y

GALATA TOWER (go at sunset!)

18.5

 

$5.18

 

  N

Basilica Cistern

10

 

$2.80

 

  N

Blue Mosque

 

          Free

                        Free
Although you get through the main three for a less than the Museum Pass, the pass includes entry to a lot of other smaller museums and is well worth it.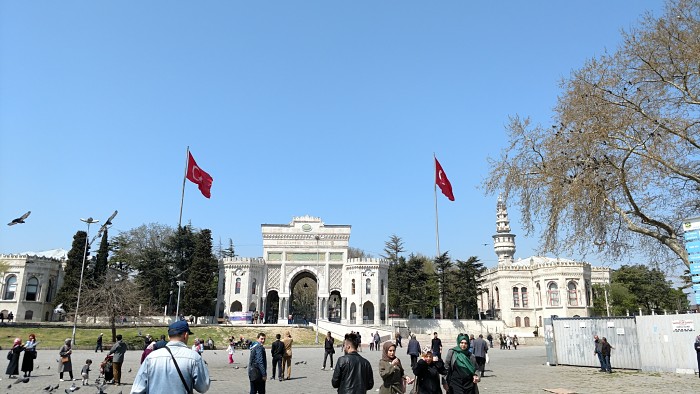 Other Costs in Istanbul
Transportation  1) Cabs were very reasonable here, other blogs tell you how expensive they are, but in reality  I didn't find that to be the case. You can get through most of the city for at $10 or less.
2) For Transportation to and from the airport we took a private shuttle for $35 a person.
Shopping
If you are going to Istanbul you will end up in a store. Everything in the city is designed to get you into a ceramics, leather, rug or candy shop. This is especially true if you are within 5 square miles of either the Grand Bazar or the Spice Market.  How much you spend there is up to you, but remember never pay the asking price. They have a set starting price for everything and expect to be negotiated with.
Moral of the story: never Ever EVER pay full price while shopping in Istanbul.
One Last Note:
Most of the deals you get are due the great exchange rate. Obvious this is fluid, a major event such as Trump accidently nuking San Francisco or Erdoğan rounding up anyone who can read can quickly change exchange rates. As for now Turkey is a great value from a financial stand point.
I touched on the cost of cost in Istanbul, getting money in Istanbul and accommodations. Hopefully this article has cleared things up somewhat, but as with most travel the cost of Istanbul depends upon the traveler. If you are looking for an inexpensive, yet exotic (and a little edgy) place, Istanbul should be on your radar….