Introduction:  I have been to many places throughout Europe, Budapest (Buda -pesht), Hungary is one of the most magnificent cities I have visited..thus, far. The city has a lot going for it, great food, amazing architecture, along with an incredible nightlife. Budapest is extremely walkable, and unlike some major cities (cough, Rome, cough) it is not totally overrun by tourists. Hungary has a very harsh history, but one would never know by the present state. I'm not sure if it was due to the fact that I had a stomach filled with wine and pork, but I was immediately in a place of contentment during my stay. 
Most Popular Attraction
1) Buda Castle-

T

he

Castle is
 one of those places that cannot be missed, filled with museums and some of the best views in the city, it definitely lives up to the hype, even if it is one of the more crowded areas. Whether or not you chose to go into the museums it is worth the trek (train/escalator) to the top. We went during the late hours of the night as well as during the day; I preferred the late night, due to the quiet atmosphere.
2) Parliament –

This would have been a great site to visit.. had we been able to go inside. Unfortunately, our timing was off and it was closed on every attempt we made. The building is amazing from the outside, and it is a major attraction in the city, so I felt I needed to mention it. Just be sure to check the times to ensure it is open.
3) Heroes Square –

A square originally built to celebrate the first 1000 years of the Hungarian State, it is another "must visit" in my opinion. The site is located at the end of the Andrassy Avenue, and has museums on either side (although at the time of writing this the Museum of Fine Arts is closed for renovations). There are a lot of beautiful buildings and sculptors in this city, Heroes Square takes this to the next level.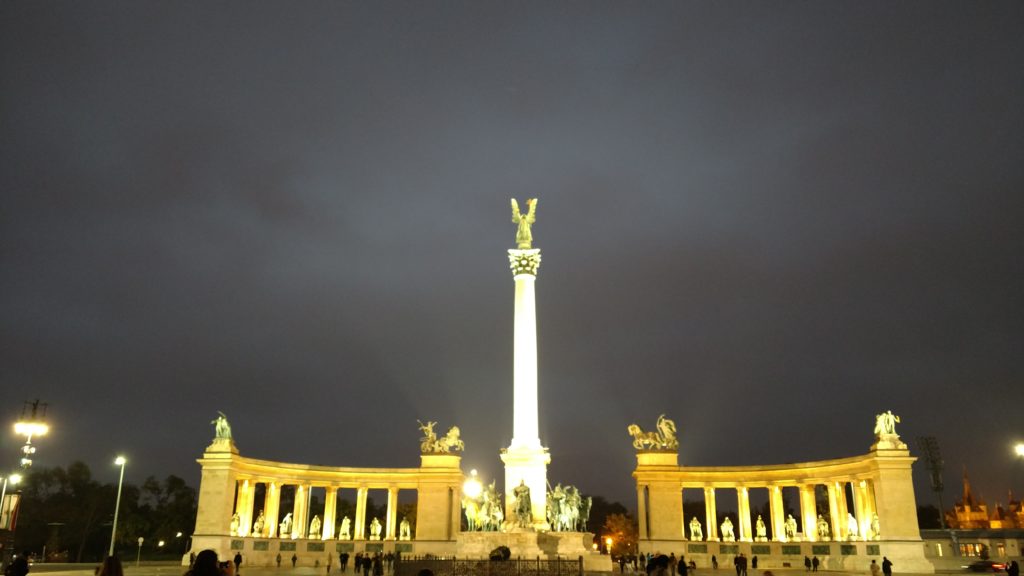 Where to Eat:
The amount of great food in Budapest is almost surprising, Hungary isn't usually a place mentioned when discussing great cusine. I reference three restaurants below, but this is by no means inclusive of the whole city. I feel like there is something for everyone, the food goes way beyond heavy meats and dumplings.
1) TAMA BUDAPEST –  The restaurant, at the time of writing this, is somewhat unknown to many of the locals we surveyed. The staff informed us it was still fairly new, but for me it was an exceptional discovery. The food was delicious and visually it was stunning (see below). The service was amazing and among the best I ever had. To me you can't go wrong by choosing Tama in Budapest.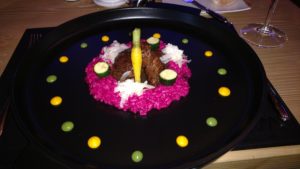 2) The Great Market Hall – Admittedly, it took me a second to warm up to this market due to the crowds. The second floor tables are like the thunderdome; it is ever man for himself. This is not fine dining by any means, but it did give me a great opportunity to sample many of the classics like Chicken Paprika, Hungarian Goulash, and Stuffed Cabbage. Once you get used to the madness and settle in,you may be in store for some of the best food of your trip.
3) Borkonyha Winekitchen Restaurant – Although it isn't necessary to go to a Michelin Star restaurant to find great food in Budapest, it certainly doesn't hurt. Our meal here was excellent, albeit much more expensive than other places. We had a 5 course tasting menu with wine, I left happy and full. The menu changes on a regular basis, but if they offer the venison I can't imagine you will leave disappointed. 
Other Attractions:
This list can go on and on, but I will touch on some of things we saw that we enjoyed the most.
1) Labyrinth of Buda Castle – The caves are creepy, historic, and a lot of fun, the labyrinth is one of the more hidden attractions in Budapest. I was a bit surprised after reading other review sites, some people complained that the labyrinths were damp and cold. This is kind of ridiculous given they are underground and by nature cold. I personally loved them, go there and see where Dracula was held for over 10 years.
2) The Gellert Baths –

No overview of Budapest is complete without discussing the Baths, one of the most unique things about the city. Unfortunately we only visited Gellert, but this was mainly due to how much we loved it. When I first entered the process a bit chaotic, but once you get into the water that doesn't seem to matter. You would be doing yourself a disservice if you visited Budapest without visiting the baths.
3) Ruin Bars –

We visited three of these bars, but repeatedly returned to Szimpla Kert. To me they are kind of like Budapest's SoHo, only a little grungier. One complaint I had about the town was that it closed a bit too early. The Ruin bars stayed on and popping well passed my bed time.
Travel Tips for Budapest:
1) Try the wine, it is outstanding, some of the best I have had in the world. It is also ridiculously cheap.
2) I think I found my most enjoyable moments when I just walked the streets. Personally, I think one should stay on foot rather than take the bus, there are countless statues, churches, and amazing buildings that you will run into..
3) Mulled Wine is your friend on a cold day.
Warnings
1) There are a lot of places that take credit cards, but many don't; always have cash on hand.
2) I have heard about (but wasn't a victim of) many scams that are popular in Europe. When in a restaurant always check the menu for the prices and if possible keep it with you. It is better to do this so you avoid the possibility of paying $200 for two drinks and an appetizer.
3) Palinka is not your friend (but try it anyway).
In Closing: I loved this city, much more than I thought I would. The food is surprisingly good, the wine alluring, architecture amazing and the amenities fantastic.  I mostly loved it because I just felt comfortable there in a way that was unique to Budapest. Yes, I was a tourist, but I didn't feel like one.  I would go back in a heartbeat.. but it is a big world ……..