Introduction: My last trip to New Orleans was also my first, and I must say I was impressed with the city. It felt like a different country at times, the food, the culture, and the atmosphere were foreign to me. It was like New York and Charleston had a baby and brought it to Gulf. The city had all the charm of Charleston, but the grit of New York….and food that rivaled both. It quickly became one of my favorite cities and I am planning my return. I will give my best attempt to give an overview of the city through the eyes of a tourist. I understand when I write all these reviews that I may step on some toes (especially the locals), but this is just one man's perspective.
Most Popular Attractions:
1) Bourbon Street – Love it or hate it, you have to hold your nose and go at least once. If you're in college or just nuts you will probably enjoy the total wildness that makes up Bourbon street (admittedly, I loved it). The street is like something out of Mad Max, by far the craziest street in the United States I have been on. Just a warning, you will see (and smell) things you can't unsee (or unsmell), but it's not something to be passed over.
2)  New Orleans Museum of Art – Wash off the filth you acquired from Bourbon Street, hop on a street car (an experience in itself) and go down to the New Orleans Museum of Art (NOMA).  Our visit here was serendipitous, after eating a fabulous dinner, we found out there was a special midnight party at the Museum. Located in City Park, be sure to hit up the sculpture garden as well, and after make your way down to Morning Call Coffee Stand for the second best Beignets in the city.
3) Louisiana State Museum – The amount of history in this museum was impressive, considering that the Louisiana Purchase was signed here and the room isn't even marked. I learned a lot about the very extensive history of the city, from the Spanish to the French rulers and how they helped shape the area. The museum is a lot bigger than it looks and with exhibits that include Mardi Gras and Hurricane Katrina this is a must stop if you want to learn more about the city.
Where To Eat:
1) Commanders Palace – To me, visiting Commanders Palace is a no brainer anytime one visits New Orleans.  Located in the Garden District away from the noise of the French Quarter, the restaurant serves some of the best food I have ever had… anywhere. I don't think you can go wrong with any entrée, but for dessert do not look at anything other then the Bread Pudding Soufflé (seen below).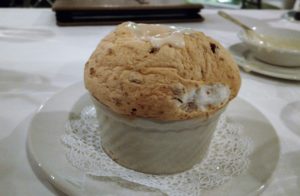 2) Café Du Monde – I made it a point to try Beignets from around the city, and Café Du Monde had the best, it definitely lived up to the hype. Some may dub it as a tourist trap, but really I can care less. The donuts were delicious, light, crispy, and piping hot, far better than some of the other area establishments that were either cold or too dense for my taste. Tip: Go in the very early morning to avoid crowds, it is open 24 hours a day.
3) French Market –  A combination of a flea market and a row of specialized eateries, the French Market holds a special place in my heart. It was my breakfast place every day of my trip, stopping at the Nawlins Café for such treats as Alligator Sausage on a stick, Alligator egg sandwich (my personal favorite) and Alligator Po'boys. Combine these with a early Bloody Mary and you have yourself a great morning.
Other Attractions:
1) New Orleans Historic Voodoo Museum: It was kind of a quick, stop but I really enjoyed the creepiness of this place. Located in the French Quarter it has a lot of interesting items, but not a lot of room, those of you who don't like tight spaces might be turned off. It is definitely worth $7 to get out of the heat and see some thing out of the ordinary.
2) Carousel Bar: Located in the Hotel Monteleone, this is one of the few places I actually sat and stayed to have a drink (as opposed to taking it on the road). The highlight of the establishment is the bar itself which slowly moves your seat around the area. I found the room to be beautiful and the service was outstanding. It does get crowed at the bar so you may have to wait to take a ride.
Tip: Order the Vieux Carre, a drink invented at the bar itself in 1938.
3) Royal Street – Although right next to Bourbon Street, Royal Street felt miles away and I could have spent days, with drink in hand ,wandering in and out of galleries. For sale are items including original paintings by Pablo Picasso and Salvador Dali (amount others), this streets art galleries have more valuable art than most other cities museums. If you combined that with the unique stores and shops it is definitely a great way to spend an afternoon.
Travel Tips for New Orleans:
1) After slugging through the pit of Bourbon Street, make your way to Frenchmen Street, were the locals go to have a good time.
2) Take a street car and explore areas outside the French Quarter, hop on and go to City Park or take a ride to the Garden District…both beautiful areas away from the craziness of the French Quarter
3) There are no open container laws in the city and plenty of places to grab a drink on the run. It may not be your thing, but it is nice for a city to have that kind of freedom. Many stores have allocated spots to store your drinks while you browse, that makes for a nice afternoon.
Warnings:
1) I didn't experience this directly, I was told there are pickpockets in the more touristy areas (especially Bourbon Street). Keep important documents close, be sure not to drink too much so you don't become a target.
2) Although most of the people are extremely nice, we also had some very rude and condescending people that we encountered. Some of these people had a total contempt for tourists, even before we opened our mouth. If you experience this, move on to the next place.
In Closing: These were my experiences in the limited time I had in this wonderful city. I always welcome the opinions of locals or fellow travelers who may have a different view or something new to add. New Orleans is definitely a city I will return to. The food, culture, and atmosphere are some of the best in the country. One day I may even be brave enough to venture there during Mardi Gras.